History of Student Success Centers (SSC)
New York City's Student Success Center movement was initiated in 2005 after an Urban Youth Collaborative survey found that while upwards of 90% of NYC high school students wanted to attend college, over 60% reported inadequate access to counseling and information about college.  Given that New York City public high schools do not have a designated budget line for college counselors – the Urban Youth Collaborative sought a new approach. Using as a starting point a model observed in Philadelphia, the Collaborative designed SSCs to utilize the expertise of community based organizations (CBOs) and the power of youth leadership.
The Student Success Center Model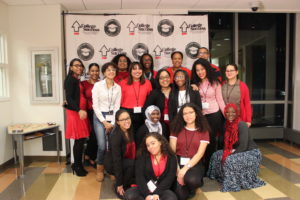 The overarching cultural-change strategy of the Student Success Center model is to create a culture of college possibility that permeates a schools' climate, classrooms and activities. The program design is three- tiered: (a) Youth leaders are trained by community based staff and College Access Research and Action (CARA), so that they are equipped with the skills, knowledge and attitudes to educate and assist their peers with the college admissions process, (b) Youth leaders and adult counselors provide group workshops, trips, and college-awareness programming to all students, all interested parents, and staff/faculty through a regular program series; c) Youth leaders and program staff provide 1:1 intensive college advising and financial aid assistance. Through this three-level approach, we increase the knowledge base, skill set and comfort-level of students, parents and school faculty and thus, raise the expectation that students will go to college. Through the center, we aim to provide the key wrap-around services to engage students, faculty, parents, and alumni in transforming the schools' culture into a college-ready environment.
Overview of New Settlement's Student Success Center
With funding from the Helmsley Foundation and technical assistance from College Access Research and Action (CARA), New Settlement was able to open a  Student Success Center (SSC)  on the Taft Educational Campus in 2011. The Student Success Center is a full-service college counseling center designed to ensure that all students at Taft have the support they need to apply to and matriculate into college. 
School Based Programs and Activities Include:
Individual college counseling for high-school juniors and seniors

School-wide college-application completion days hosted by the SSC to offer students extra support with the completion of their college applications.

Early college awareness workshops provided to 9th, 10th and 11th graders. Workshop topics include: (a) Why College?; (b) True Colors: Exploring Careers; (c) College Trip Etiquette; (d) College Applications and College Knowledge; (e) Senior Application Timeline.

Building-wide financial-aid workshops (in English and Spanish) offered to students and parents.

College trips, during the school days, offered to all of the 9th, 10th, 11th, and 12th grade students who attend partner schools.

SAT Prep

Building-wide college fair for high school juniors.

College Bridge Program – During the summer, College Coaches follow up with all of the graduating seniors at our partner schools to ensure that students have everything in place for successful matriculation to college.
Partner High Schools on the Taft Educational Campus
Bronx Collegiate Academy

Bronx High School of Business