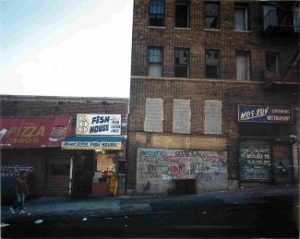 If you had walked through the Mount Eden neighborhood of the Southwest Bronx in the late 1980s, you would have seen burned-out, boarded up shells of buildings with little sign of life. Today, you will see thriving apartment buildings and public spaces with children and families strolling to and from school, and elders sitting out in front of their homes. The difference is no accident. It is the result of nearly 30 years of diligent commitment by New Settlement and its parent organization, Settlement Housing Fund, to rebuild a devastated neighborhood. New Settlement's gut-renovated, rehabilitated and new buildings have served as a catalyst for a host of community-based programs and for other redevelopment in the neighborhood – a neighborhood that has had a population increase of more than 4,500 people over the past three decades.
New Settlement was created in 1989 with the acquisition of 14 abandoned buildings from the City of New York. The development has since expanded to 18 buildings, two of which are newly constructed, that together are home to 1,082 families – 30% of whom are formerly homeless. Recognizing from the outset that a community is not made simply of bricks and mortar, New Settlement launched a range of community-based services in education, college access, youth development, arts, workforce development, community organizing, wellness and other key services that provide important resources to the neighborhood's youth and families.
New Settlement's success in neighborhood revitalization and community building has been achieved through close collaboration with a wide range of educational institutions, housing and community development organizations, businesses, youth development and social service agencies – in the neighborhood, Bronx-wide, across New York and nationally. The programs at New Settlement are supported by local, state and federal government agencies, as well as foundations, corporations, organizations and individuals.


Recently, New Settlement collaborated with the NYC School Construction Authority, the NYC Department of Education and Settlement Housing Fund to develop a 172,000 sq. ft. facility that includes new pre-K through 12th grade public schools and a community center with an indoor swimming pool, dance studios, multipurpose rooms, art gallery space, an outdoor amphitheater and rooftop garden terrace. This innovative, state-of-the-art Community Campus addresses both the need to alleviate overcrowded schools and the need for space to accommodate expansion and enhancement of New Settlement's community programs for youth and families. The New Settlement Community Campus opened in September 2012 and serves more than 10,000 members and participants, including students from numerous public schools in the Bronx.
Before/After