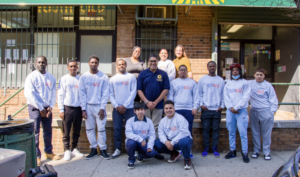 New Settlement YouthBuild is part of an international community that believes in the power and potential of opportunity youth in our community and beyond. Due to a generous grant from the U.S. Department of Labor, we have established a powerful framework for responding to the challenges our young adults face. We offer High School Equivalency (HSE), preparation classes, through our Department of Education Pathways to Graduation program. We also offer vocational skills training programs in the areas of:
Construction and Carpentry,
Healthcare (clinical and administrative) pathways, and
Customer Service and Hospitality (Restaurant and Retail focused).
Our program builds employment skills that young adults ages 17 – 24 need to enter the workforce, pursue advanced training opportunities, or enter post-secondary education.
New Settlement YouthBuild was launched in the Summer of 2017. Our program builds from the national and international YouthBuild model, that originated in Harlem in 1978 to help young people from low-income communities find employment as carpenters, electricians, plumbers, and construction workers.