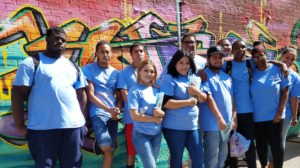 New Settlement Apartments' YouthBuild Program is a U.S. Department of Labor-funded program that builds the employment skills of 35 youth, ages 16-24, annually by training and placing them in employment in the construction trade industry. New Settlement Apartments' YouthBuild program was launched in Summer 2017. Our program builds from the national and international YouthBuild model, that originated in Harlem in 1978 to help young people from low-income communities find employment as carpenters, electricians, plumbers and construction workers.
In our program, participants receive on-site training rehabilitating apartments for low-income New Yorkers by rehabilitating 16 units of affordable housing. These units now need substantial renovation in order to be preserved as viable, inhabitable affordable housing for low- and moderate-income families; to be made energy efficient; and to be fully accessible to people who are mobility impaired. New Settlement YouthBuild training prepares participants for NCCER, OSHA, OSHA Construction 10, OSHA 30, BASI, BSI, Supported and Suspended Scaffold, Flagging Training, First Aid and CPR, as well as union apprenticeships.
The New Settlement YouthBuild High School Equivalency academic curriculum for participants aged 16-21 is offered in partnership with NYC Department of Education's District 79 Pathways to Graduation staff on-site in fully equipped classrooms at 1616 Walton Avenue in the Bronx. Our program model combines Academic Studies (50% of time), Construction Skills Training (40% of time) and Leadership- Community Service (10% of time).