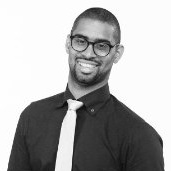 Bachelor's Degree, LeMoyne College
Major: Marketing and Management
Masters in Public Administration, Columbia University
Current Employment: Assistant Vice President for Government and Community Relations, New York City Economic Development Corporation
"The College Access Center was pivotal to my college acceptance and success. I was admitted into over 12 schools. The team there was extremely supportive of me. I am eternally grateful for their guidance and support."
Radhy was born in the Dominican Republic, and came to New York City at the age of 7. He became a participant of the College Access Center at the urging of his school counselor. At the Center, he received help with his college applications, essays, identifying which schools to apply, and obtaining fee waivers.
While in college, Radhy worked part-time at his school's cafeteria and interned at a range of organizations in Syracuse, NY, in order to gain meaningful career experiences in advance of graduating.
After graduating from LeMoyne, Radhy utilized his communications background to assist organizations with website development and marketing (newsletters, etc.).  In 2012, Radhy began working at Columbia University where he held a range of positions that helped him to develop his skills in program development and community relations. He now works at the New York City Economic Development Corporation, doing government & community relations.
Radhy hopes to continue to help people in underserved communities. His career goal is to continue to hold leadership positions in government or foundations that allow him to have a meaningful impact on populations in need.