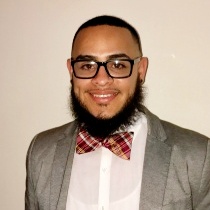 Bachelor's Degree, Marist College
Master's in Social Work, Fordham University School of Social Work
Employment: Teacher Recruitment Manager, NYC Department of Education
Jason Acosta attended DreamYard Preparatory High School in the Bronx where he received college advising support from one of New Settlement's school based counselors.
Upon graduating, Jason went to Marist College, where he majored in social work and sociology. Jason was highly involved in his undergraduate years. He participated in the Black Student Union, Appreciating Races Creating Opportunity (ARCO), was the co-founder of Agents of Social Change (a group for young men), and was a student ambassador and tour guide. 
After completing his BA, Jason continued his community work and became a mentor for Eagle Academy in the Bronx, founded the Young Men's group at The Fresh Air Fund and became the founding Board Member and Chair of the Academic Subcommittee for the Cardinal McCloskey Community Charter School
Jason is currently working as a Teacher Recruitment Manager for the New York City Department of Education.