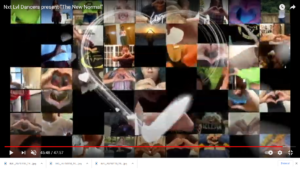 The Program for Girls & Young Women's Spring 2020 semester — like everything else — was hijacked by Covid-19. But our dance staff and a majority of our dancers continued to create and learn choreography while in quarantine March-June, working from video tutorials and participating in Zoom classes, and shifting the focus of the spring performance piece to reflect the daily realities, struggles, discoveries and current events that became The New Normal.
Don't have 45 minutes? Check out the short video made by Lead Instructor/Choreographer Mickey Sakai in response to the insanity of Spring 2020: set to John Legend's "Bigger Love" and featuring Next Level Dancers, students from her school-based dance programs and colleagues from all over the world! The short video was also featured on Bronx 12 News.
Our playwriting program, Project VIP, could not perform their original work as they typically do at the end of each semester, in May or December of 2020. Instead we offer these original manuscripts to you, our community, so that you can share in the experiences and perspectives of our young playwrights as their worlds tipped upside down …
Parents (& Kids) Just Don't Understand – Project VIP Spring2020 Manuscript
In This Place – Project VIP Fall2020 Manuscript  
We partner with Sadie Nash Leadership Project, and during the spring quarantine that group pivoted from the student project they had planned to creating a YouTube channel with Quarantine Tips. The fall cohort has been working on new ideas for community projects, to be further developed in in Spring 2021.
These are just a few examples of ways participants and staff have tackled the unprecedented events of the past year, and of course it's not over, and neither are we! Spring semester begins the week of January 25th, so if you or someone you know wants to join any of our classes, now is the time! Enroll here.