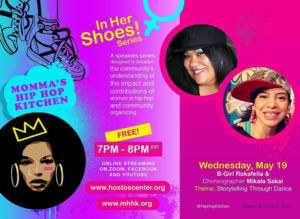 Mickey Sakai, founder and leader of our Next Level Dancers & legendary B-girl Rokafella talk Storytelling through Dance as part of the Momma's Hip Hop Kitchen "In Her Shoes" web series, framed as a sacred healing space for the hip-hop community of women.  Mickey and Roka get real about their journeys as dancers, choreographers and 'artivists,' what dance speaks to for them and the experiences they seek to amplify in working with girls and women. Connections, representation, hip-hop as the voice of oppression, bringing a spirit of defiance and hope for future generations. Plus Hip Hop represented in Olympics 2024 – whaaaaat??
Links to the recorded May 19 session here.
Links for other sessions and more info on the series here.