In honor of Women's History month, Next Level Dancers will release their fall/winter 2020-21 hip-hop performance Not Your Average Fairy Tale in "chapters" every Friday in March, at 5:15pm Live on Youtube. The content will stay available after each premier, but catch it at 5:15 if you want to be a part of the "live" audience and support the dancers by dropping comments in the chat! The dancers are viewing their work for the first time then, as well.
Under the direction of choreographer Mickey Sakai, the group explores the centuries old stories we are told as children and the realization that REAL life is nothing like a fairytale. "There is no Prince charming riding in on a white horse to save them. Life is not so simple as Heroes and Villains, Black and White — life is more complex and comes in many shades of grey …"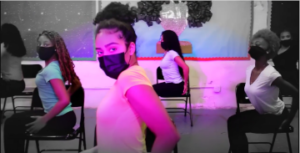 Chapter 1 Premiered on March 5th, 2021, watch here.
Chapter 2 Premiered on March 12th, 2021, watch here.
Chapter 3 Premiered on March 19th, 2021, watch here.
Chapter 4 premiered on March 28, 2021, watch here.
Follow them on Instagram @nxtlvldancers
Next Level Dancers is part of New Settlement's Program for Girls & Young Women, and is offered at no cost to participants.  Not Your Average Fairy Tale was shot and edited by Mickey Sakai and Michelle Televantos; filmed in New Settlement spaces, at New 42 Studios (Manhattan) & 2GUNSStudio (LIC). NLD is supported in part by grants from NY City Council (Young Women's Initiative) and Bronx Council on the Arts.