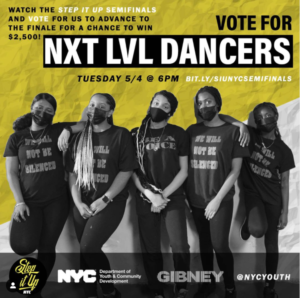 Next Dancers is participating in DYCD's annual Step It Up competition, which will "showcase the power and influence of youth voice. Through social campaigns and dance performances of all genres, young people (ages 10–21) will compete to raise awareness and express their opinion on various social issues. Virtual audition rounds launched back in February and for this last round before the June finale, semifinalists will perform #BLM-inspired choreography in front of the judges.
You can watch all the semi-finalists perform and vote for your favorite group! Register here.
As part of the process, the group also established a mission statement and a plan for community engagement, which you are welcome to join:
Mission Statement– We are Black Lives, Black Minds, Black Bodies and Black Excellence, melanin courses through our veins. We as young women of color will make a change by speaking up and using our voices, the same voices they are trying to silence. We will lead our community through dance and healing through movement. It is our responsibility to educate our youth and listen to our elders — this will give us the power to make change!
Community Engagement Plan:
We will release weekly #BLM dance videos 5/15, 5/22, 5/29 highlighting different dance pieces centered around Black Excellence and honoring a different innocent lost to police brutality. Follow @nxtlvldancers on Instagram for to see those releases as they are posted.
We will offer a FREE Community Class featuring NLD "I Can't Breathe… Again" choreography. Sign-ups will be held on social media and our Program website (check back for details soon). We will cap our in-person class at 20 students to safely social distance dancers and NLD members while simultaneously hosting a live IG class! Choreography will be taught and curated by NLD team members. Date TBD, but likely 6/5/21. We will also host a post class workshop on creating choreography that focuses on Social Justice and the voices that matter.
6/19/21 Juneteenth Community Celebration – We will hold a festival (permit pending) and performance on Saturday, June 19th highlighting each team member's origin story as a young woman of color, and their hopes for their legacy. Check back for update on time and exact location! For safety, due to covi19, the audience capacity for this in-person performance will be strictly monitored and advance reservations required. Still free – just have to RSVP!