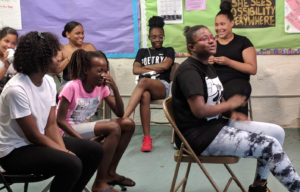 Enrollment in free after-school classes and weekend programming is self-selecting — girls and young women may sign up for one or all programs offered in their age or grade group. Enrollment opens in mid-September for Fall semester, and mid-January for Spring semester. We also offer a Summer Arts & Leadership Academy for girls aged 10-15 (apply in May/June), and operate a Summer Youth Employment work site training Peer Educators.
Check Out our Spring Classes here:
Some programs are seasonal, and some are offered through partnerships with other organizations, such as Sadie Nash Leadership Project, Girls Inc. of NYC, En Foco, Shake It Out and EDsnaps.
Core programs include:
G.O.A.L. for high school girls (health, college prep, self-defense & financial literacy)
VI BE. (dramatic writing and performance, ages 13-18)
Next Level Dancers (Hip-Hop dance with a message, aged 10-young adult)
Peer Educators (SYEP work site; workshops available year-round).
Contact Program Coordinator Tasheema Lucas to enroll or inquire:  (929) 502-5980 or t.lucas@newsettlement.org