By Katya Galfund
It wasn't until several months into the school year when I first saw what a co-worker or student's face looked like without a mask. Taking a sip of water and saying, "Wow! So that's what you really look like!" Being a new member of my school community during a pandemic took a lot of time and effort to get comfortable. But now when I hand out breakfast to students in the morning I greet each student by name and receive warm smiles in response.
With the chaos of teaching in-person and virtual, dealing with constant changes to protocols, and fears of closures due to an outbreak, this year has been high stress. There are many days where I feel exhausted and, frankly, not very excited to go teach about food. But when I walk into the classroom I am overwhelmed with comments like, "Ms. Katya! I missed you so much!" and "Ms. Katya is so tall! It must be from all the vegetables she eats". I can't help but smile. Those are the moments I remember why being here is so great. Realizing that the kids are what keep me going, I decided to keep a section in my notebook dedicated to things my students have said to me throughout the year. Rereading these little moments helps keep me resilient. To share some joy with you, I will share a few anecdotes of my favorite memories and what they taught me.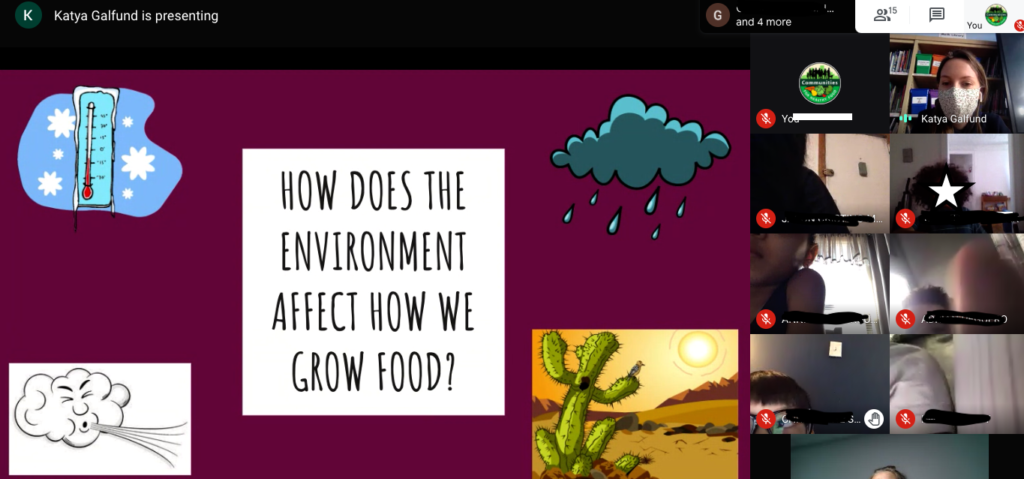 Teaching second graders is my sweet spot. They are just the right age to begin understanding complex topics and leave me puzzled with question after question. While teaching a class about food around the world, we took a virtual field trip to countries such as Brazil, Morocco, Senegal, and India to learn about their popular cuisine. After discussing common ingredients used in these cultures and highlighting national dishes a student said, "You really got me interested in trying these!" Anytime a student talks about wanting to try something new is a good day, knowing they are inspired to venture outside of their comfort zone. My students then took it upon themselves to share their own cultures and food they eat at home. They even made note of similarities between the lesson and their personal lives.
One of the sweetest memories came from a virtual kindergarten class with low attendance. However, there is one student who consistently comes to the class and always tells me about his family and cat. I was about to start class as we had already waited five minutes for others to show up and I thanked him for always being early and participating with me. And he said, "Well I can't miss my favorite fun class!" I learned to be easier on myself and realized that showing up to class prepared to share stories is more than enough.

While the school year has presented its many challenges, it has also filled me with so much joy, all because of my students. Just the other day one of my students came up to me in the morning and told me she was sad because she missed her mom. We spent some time talking, trying to take her mind off of things. Later that day I taught her class and she asked, "Do you remember what we talked about earlier?" I said, "Yes, of course! How do you feel now?" and she responded, "A lot better!" The hours spent with my students are not solely about teaching them how to garden and healthy eating; it is about creating relationships and fostering care for one another.