By Eva Wertimer
When I first walked into the garden space at PS 42 almost exactly a year ago, I felt transported. The garden, left mostly unmanaged due to COVID school closures, was overgrown and beautiful. The former FoodCorps service member at PS 42, Selma, had planted lemon balm, collards, sunflowers and vine after vine of cherry tomato plants. These were all growing bountifully thanks to her careful hand. Outside of the beds, the garden was overflowing with weeds, which although pesky, provided a stunning landscape. I felt overwhelmed by the work ahead of me. The garden needed to be weeded and cleaned and there was produce abound to be harvested.
Throughout the first warmer months of service, the garden provided me with solace, a place to maintain, when the rest of service felt unnerving and uncertain. So many members of the school community were unfamiliar with the space, which former Science, and current Pre-K teacher, Ms. Machicote, fought to create and uphold. Yet, the garden is constant. It grows whether we ask it to or not, whether we pay it a visit or not.
Soon, I gained confidence to take students out to the garden. At first we just walked through. It was early November, the weather was getting colder and there wasn't too much to do in the garden. But students responded to the space immediately. Just a walk through the garden left them with a million questions. "What is this?" asked one third grader, holding up a dried seed pod. "What about those?" Asked her classmate, pointing to the weeds under his outdoor seat.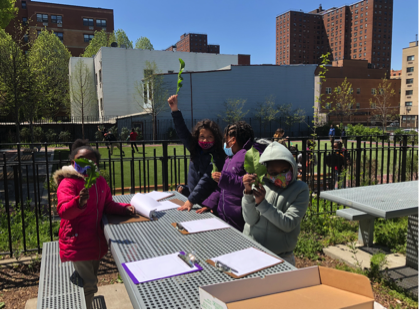 As spring approached and the weather warmed, I tried to make at least one component of all my classes in the garden. Each class, kids, who earlier in the year weren't totally aware of the garden space, asked "Ms. Eva, are we going to the garden today?". The same garden that had provided me comfort so many months earlier, was also a place of excitement and opportunities for my students. I watched students pull out weeds surrounding the beds and go "look, these are the roots!", something we learned earlier in the year in their classroom. Students, who at first were almost too overwhelmed by the change of environment in the garden, now always made sure to ask — "Is it okay if I touch this?" or remind their classmates of our garden agreements.
The PS 42 school garden represented so much in a year dredged and complicated by COVID. It's a place for connection, it's a space to take a breath, figuratively and literally, to spend a moment outside, to take a mask break. And ultimately, the garden is a place of growth. Perennials come back, seeds sprout, transplants blossom. Trust builds in the garden, between teachers and students, between me and the PS 42 staff. Between us and the land. We are all connected, growing and learning together, in the garden.