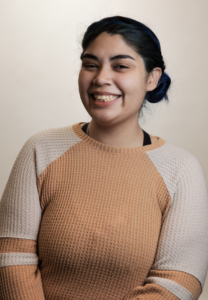 Stephanie Cataquet
Director of CHI
Regina Harrell
Farm Stand and Food Pantry Coordinator
Regina McClain
Culinary and Garden Program Coordinator
Stephanie Cataquet
Stephanie Cataquet is the Director of Community Health Initiative and has been a part of our team since the summer of 2021. Stephanie was born and raised in the South Bronx and has dedicated many years to improving the lives of inner city youth. She graduated from the University of Massachusetts Amherst with a major in education in the natural sciences in 2019 and has worked alongside several non-profits in the environmental and education sector, in the hopes of sparking a curiosity in conservation and improving the quality of life of her students, their families, and her beloved Bronx. She is happy to assist the community in her current position, as it allows her to design and implement programs that help the community around her and meet the needs of community members who are the most vulnerable. 
Regina Harrell
Regina Harrell has been a part of our center team since 2021. She joined us after serving as an intern with the Jewish Community Council for New Settlement, on their City Clean-up Corps initiative. She currently goes to college and is majoring in business, all while balancing her job as the farm stand and pantry coordinator, a youth Zumba instructor, and a mom to 2. She continues to work and grow with New Settlement due to her love of helping others and giving back to her community. She feels her job here helps her do that. 
Regina McClain
Regina McClain joined our team in June of 2022, and is currently training and learning a lot about the in's-and-out's of program management in the educational realm. She recently graduated from SUNY Purchase, with a major in graphic design, but has since switched to expanding her studies to include gardening and educational instruction. What she loves most about her job is teaching and engaging with the children in and out of the gardens. She feels like it's a wonderful experience for both the kids and her.