Thanks for checking up on us!
Our Farmers Market for Kids workshops have gone virtual this season! We're meeting over ZOOM every Thursday at 4:30 pm, from now until November 24th. Join us for a for a live cooking and nutrition education session geared to children (between the ages of 5 & 13) and their families.
Through live discussion and engaging virtual activities, the sessions offer caregivers tips for involving children in meal planning and preparation. Visit our 170 Farm Stand page for information on how to register for the sessions.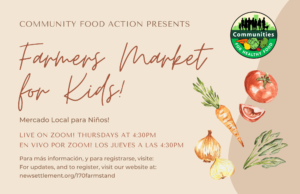 Our school-based programming will continue in compliance with our partner schools' blended learning models. Stay tuned for more details!
Please note that with the move to online platforms, our programming, which takes place within New Settlement programs and neighborhood schools, and isn't normally open to the public, will now be accessible for anyone and everyone who can join us online! We look forward to connecting with you all!
Peace and Plants!