There are many ways to join our programs.
Applications are open for our partner FoodCorps. FoodCorps believes that every child—no matter their race, place, or class—has a right to healthy food at school. If you share our passion, join us! Applications are now open for our next class of leaders—people like you who want to serve up change in the Bronx!
Multiple sites are recruiting across NYC. As a service site, Community Food Action at New Settlement grounds this work in the strengths and needs of our neighborhood schools and in our comprehensive approach to tackling food issues. We strongly encourage Bronx residents to apply! Please contact us directly if you are interested in serving with Community Food Action.
Check out the requirements and apply directly to FoodCorps by March 15th.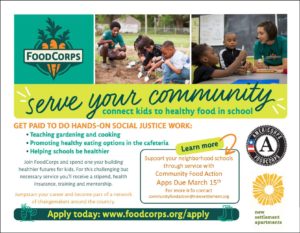 For upcoming programming and events, check out our calendar here!

Please note that much of our programming takes place within New Settlement programs and neighborhood schools, and thus isn't open to the general population.