About New Settlement and Community Food Action:
New Settlement Apartments is a settlement house based in the Mt. Eden community of the Southwest Bronx, with a 27-year demonstrated commitment to increasing preparedness and access to safe and affordable housing, high-quality public and post-secondary education, expanding opportunities for healthy and active living, and fair and sustainable employment.
Community Food Action takes a comprehensive and multidisciplinary approach to food justice in our neighborhood. We embed hands-on food education into local institutions, develop community leadership, and create opportunities to grow, purchase, eat and compost good food. We aim to model community-responsive solutions to inequities in the food system.
The 170 Farm Stand is a vibrant youth-run market, offering a selection of high quality and fresh food from local farmers at fair and reasonable prices, education on the value of seasonal eating, and food scraps composting for Mt. Eden residents of all ages. Community Food Action is excited for its 4th season of the 170 Farm Stand! At the Farm Stand, Community Food Action will be implementing Farmers' Markets for Kids, a nutrition program through the NYC Department of Health and Mental Hygiene.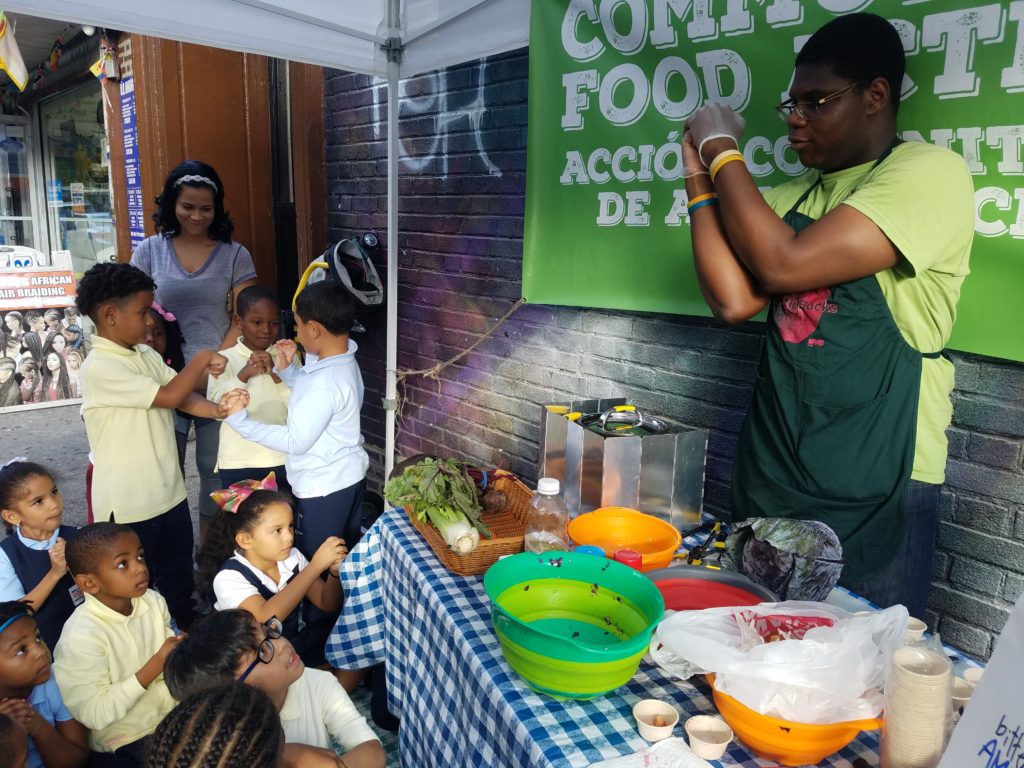 About the Culinary Educator Position:
Community Food Action seeks one highly organized, self-motivated, and outgoing individual to work as part of a team in the preparation and delivery of Farmers' Markets for Kids at the 170 Farm Stand.
Responsibilities may include:
Collaborate with Educators to prepare for and implement interactive four to six cooking demonstrations to children and families each Farm Stand day. **Due to COVID-19, educators will be required to move workshops online, producing at least one weekly video in conjunction with the Cooking & Gardening Coordinator.
Follow curriculum and ensure integrity of Farmers' Markets for Kids programming
Be knowledgeable about origins and uses of products sold at the 170 farms stand; be able to communicate knowledge about the benefits of seasonal eating to participants and customers
Carry out and ensure proper transport and set-up of tent, equipment, cooking supplies and educational materials
Market and promote FMK and the 170 Farm Stand to ensure minimum required level of participation is achieved
Maintain food safety, including cleaning and sanitation of all cooking equipment used in cooking demonstrations
Ensure necessary cooking materials are on site each week and purchase food
Collect surveys for all workshop participants and complete all paperwork fully and accurately
Attending monthly office hours to participate in check-ins with supervisor
Qualifications include:
Basic knife skills and ability to execute basic cooking techniques required
Bilingual English/Spanish speaker strongly preferred
Experience educating or engaging with a low-income community-based setting required
Experience or training in nutrition, culinary arts, or cooking in public setting preferred
Experience conducting nutrition workshops at farmers markets a plus
Dynamic personality and excellent presentation, interpersonal and communications skills
Ability to work well with a wide variety of individuals, especially children
Knowledge of, and enthusiasm about, food issues as related to healthy living and restoring food sovereignty to communities strongly preferred
Experience working as part of a team
ServSafe certification or successful completion of the NYC Food Protection course
Places value on cultural awareness in a multi-ethnic community. Ability to adapt recipes to the community served by the 170 Farm Stand
Bronx or Upper Manhattan native or resident preferred
Physical Requirements: The position requires working outdoors in all weather conditions, standing and walking for extended periods, and carrying heavy and bulky items
This paid position is part-time and seasonal to coincide with the regional growing season (July – October 2020). The position will start with two training days in July, with weekly hours beginning the second week of August and ending in late October. The Culinary Educator will work 8 hours per week during the 16-week Farmers' Market for Kids season. The Farm Stand's hours of operation are Wednesdays from 2:30 to 6:30pm.
How to Apply
The pay rate for this position starts at $16/hour. Tentative start date is late July – beginning of August, 2020.
Please send a pdf of your cover letter and resume to communityfoodaction@newsettlement.org with the subject line "Culinary Educator Application: YOUR LAST NAME".
EEO/AA