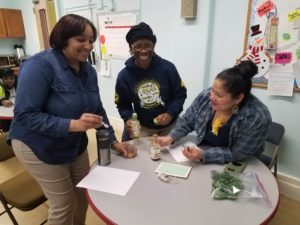 Twelve hundred is more or less the number of hours children spend at school in a year's time. That's almost a quarter of their yearly waking hours, if you were to look at it in a pie chart. And this number does not consider time spent in after-school or early morning meetings for remediation interventions, which are common place in some schools. I showed this number to the group of teachers who attended our Healthy Eating Professional Development Mini Course at our partner school, PS 42, and they were struck by it. Twelve hundred hours is A LOT of time! It's not for nothing that we often call schools our "second homes". And in that, teachers become our second-biggest influences in life. I asked teachers to lean on that thought for a while. How did it make them feel? To be so influential?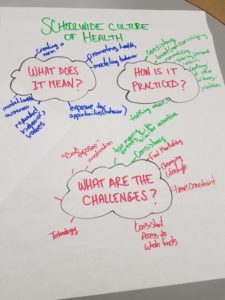 Teachers recognize their power. As shared by most during the course, they rejoice when their former pupils visit to share successes as well as challenges, and to let them know how much of a difference they have made in their lives. But with influence comes responsibility.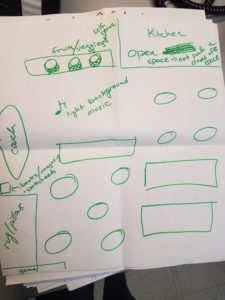 Through our partnership with public schools and FoodCorps, Community Food Action intends to create value for food education and nutrition in institutions, as well as increase awareness about food access as a legitimate food justice issue. From our standpoint, schools are a fundamental platform from where change can be forged, and the entire school community, from administrative and teaching staff, to parents and students, to paras and school aides, must come on board and together for imagining and working toward better health, schools, neighborhoods, and livelihoods. No one said it was easy, but it's not impossible, and teachers, especially, play a crucial role as the most important influencers in the school community. They, however, need all the support they can get.
With these three food-in-school PD sessions, we had teachers make a dressing from scratch and reflect on the lessons learned through experimenting and "making" together. We asked them to reflect about the idea of health and wellness in the schools, and what each meant to them personally and professionally, as role models that they are for their students. Finally, we had them imagine, draw, and talk about their ideal cafeteria environment as well as discuss the powerful effect and significance a positive school lunch time can have on their students' learning times. Thus, we lay the ground for future opportunities for continuing to create value, understanding, love and strength for food justice work from inside of the schools and out into the world we want to build.
By Maria Caicedo