The chilly morning of Wednesday, February 27, witnessed the official reopening of Little Claremont Park, located on Claremont Parkway, next to Public School #42. This remodeled public space, equipped with green infrastructure, which will be managed jointly by the school and the NYC Parks Department, is the result of a collective effort of almost two decades of experience.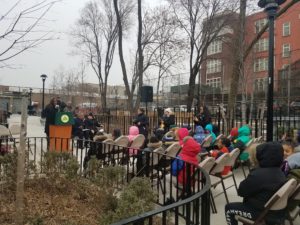 With its beginnings in the early '90s, Little Claremont Park was born from the shared vision of the neighboring school community and members of St. Paul's Church, in the Claremont neighborhood of the Bronx. Upon seeing the neglected empty lot adjacent to the school, full of garbage, they embarked on a beautification and rehabilitation project that turned the lonely and disheveled space into a true oasis for students, community members and wildlife. Leading with enthusiasm and determination, Ms. Machicote, PS 42's Science Teacher and Sustainability Coordinator, brought the garden into students' lives, conducting exploration and scientific observation projects, growing food, and forging relationships between the school and the community. For years, the park hosted countless events and community programs. Maintenance was entrusted to a group of volunteers committed to protecting and elevating the little park. The garden was registered with GreenThumb in 1994.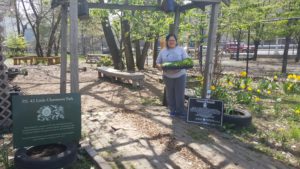 In 2001, with the support of the City Spaces program, and through the Trust for Public Land, the park underwent a second intervention, which this time around would add a playground. This arduous process of design and renovation, in which the same students from the neighboring school participated, has lasted more than 10 years! Even so, the wait has been worth it.
On Wednesday, the young neighbors who were invited to the ribbon-cutting ceremony ran around the park bursting with joy, climbing on the sets, and laughing with their peers. NYC Parks Commissioner Mitchell J. Silver guided the children in an oath, to which they all repeated, "I promise to love and take care of this little park." The opening of the park delights Selma, our FoodCorps Service Member at PS #42. This is where, together with Ms. Machicote and the rest of the faculty, she will work with the children to cultivate not just fruits and vegetables but also dreams, goals, attitudes, and love for the land that sustains and nourishes us.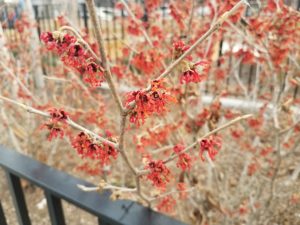 With gratitude and immersed in the thoughts of future possibilities, we welcome in this space: colors, imagination, learning, understanding and the struggle for better futures, for ALL.
By Maria Caicedo, Cooking and Gardening Coordinator