By Taisy Conk
For five years, I have had the privilege of overseeing New Settlement's food justice work, first through Communities for Healthy Food and now as Community Food Action. Amidst the disparate day-to-day requirements of running a food justice program, too often the deep thinking, resources, and audacity required to tackle "wicked problems" feel like a privilege I don't have. This balancing act is a common struggle within non-profits and in community-based organizations in particular. For me, this shows up when I am focusing on fundraising for the next season, trying to coach a direct report through a sticky problem, or planning for an upcoming event.
By virtue of being on the ground, however, I see all too well how larger forces shape our work and affect the realities of our community members. Moments of reflection, analysis, and coming together with food movement leaders are all too precious. I was thrilled, therefore, to be accepted into the Leadership Retreat with the Wallace Center's Food Systems Leadership Network, where I spent three days with emerging and established leaders in New Orleans, Louisiana.
The retreat days revolved around a curriculum prepared by our lead facilitator, Joseph McIntyre, commingled with a panel discussion with New Orleans practitioners and a learning journey to Grow Dat Youth Farm. We studied systems leadership. The concept had intimidated me but once I recognized my own analysis within the definition, I felt validated. We discussed the three core skills of systems leaders: seeing the whole, encouraging reflection & dialogue, and leading from the future. As trust built within the group, Joseph and co-facilitator LaSette Sewell guided us through a framework that promotes social change by overcoming the ecological, social, and spiritual-cultural divides that dominate our society.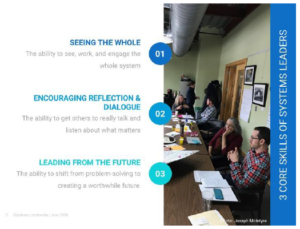 I applied for the Leadership Retreat because I wanted to be a better leader and to actualize Community Food Action into a transformational program. I gained skills that quickly translated to concrete changes in my work. Of greater consequence, though, was a newfound confidence. I came to understand the value of building trust and taking personal risks before I can expect the same from others.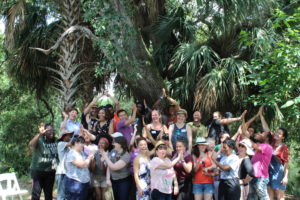 The Retreat reaffirmed for me the urgency of food systems work. Impacted by the defining struggles of our time, from white supremacy to climate change, community food systems also embody hope for what can and should be. I was heartened by the compassion and power of my fellow retreat participants. Even if we are only in the beginning of our movement, the retreat left me confident that we are well on our way.