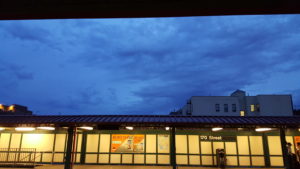 By Rachel Osei-Owusu, 2018 Cashin Fellow
The Bronx, particularly the south Bronx has a complex relationship to food as the poorest urban congressional district in the US. Here you find busy neighborhoods with people of all ages, immigrants and citizens alike, all carving a home in their small piece of America. In the south Bronx you will find some of the most diverse cuisines to eat, as well as some of the lowest amount of access to nutritious foods. The interesting thing is, people often think food access and the issues that arise with it are a matter of choice when in fact it has more to do with economic, political and social situations.
Bronx residents are no strangers to environmental and social injustices that have stigmatized the reputation of their home. One recent ongoing battle related to food has been the opening of the new FreshDirect headquarters which residents have opposed due to potential air pollution and lack of access to the waterfront or green space. Not to mention the challenge in seeing a company based out of the Bronx with prices not accessible to a lot of south Bronx members. About 50% of households in the south Bronx receive SNAP benefits which do allow them to purchase fresh produce but is also a sign of food insecurity. Too often we see people turning to local bodegas and delis for food as opposed to a supermarket that should be a reasonable distance away. This is not to say that adding a bunch of supermarkets will solve all of the Bronx's food problems, because research has shown that this isn't a viable solution. In an article describing the comparison between a supermarket placed in Morrisania and the lack of one in Highbridge, it stated that "Increasing access to fresh food does not guarantee that people have the money, let alone the time and knowledge, to take advantage of it." The same article mentions the term "food desert" and how it alludes to the fact that corporate grocery stores are a band-aid for root issues in low income communities. Rather, the term "food apartheid" which is used by activist Karen Washington is more fitting as it integrates various social factors into the conversation of the food system.
That being said, I couldn't help but wonder how this all relates to my own relationship to food and access as a native Bronxite. I have always been fortunate enough to have fresh produce integrated into my meals at home, and parents who were invested in my health. At the same time, a lot of my meals have been Ghanaian dishes where introducing new ingredients or modifying the recipe for the sake of a healthier option would be frowned upon. In writing this I recognize the connection I have with many other members of my borough where food is heavily dictated by culture, which adds another layer to the understanding of food justice work.
So in connecting my time at Community Food Action to my own experience with the Bronx, I definitely have a newfound respect for the resilience of the Bronx.  This borough has gone through various changes and tribulations with its overall identity. It took my interest in public health to see how food ties into that identity. I'm glad that I got to witness the work done here at Community Food Action because it proves that organizations exist not only to educate the Bronx but to advocate for it.