By Charlene Francois
Although our Crew Leaders (second year Youth Leaders) are busy with the 170 Farm Stand, they still found time to attend Rooted in Community's Summer Youth Summit in Millerton, New York. The Rooted in Community National Network is a grassroots network focusing on youth-led food justice work. We traveled together with the Youth Food Justice Network.
Passion Jackson and Abby Gonzalez, along with adult allies Taisy Conk and Charlene Francois, visited Rock Steady Farm & Flowers. We joined 100 youth from all over the United States including New Mexico, California, and Mississippi. Each group shared their contributions to the food justice movement. Representing the Bronx, our youth spoke about how they serve the community of Mt. Eden through the 170 Farm Stand.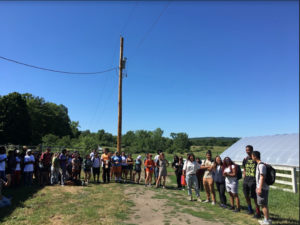 We began the day working the land. The Rock Steady farmers enlisted our help in weeding and transplanting. Our youth leaders got to dig into the soil and plant vegetables such as swiss chard and basil. After hard work, we enjoyed a quick lunch before heading to Bash Bish State Falls, the highest single-drop waterfall in Massachusetts.  The scenic backdrops of a farm and a waterfall allowed our youth to experience something different than what we lovingly know as the concrete jungle of NYC. They were refreshed both by the new scenery and company.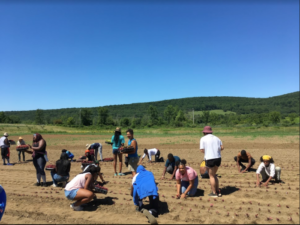 Our youth leaders connected with other young people who also strive to bring justice to their communities by increasing access to healthy food and land. Abby and Passion recognized that they are not only a small part of the RIC network, but an integral part of the food justice movement in general.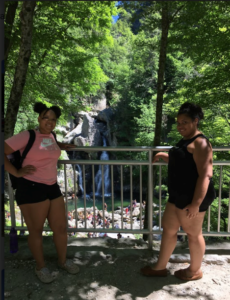 Food justice is about how we serve the communities we belong to in the present. It is also about imagining how food can help us build the loving and thriving communities we want to attain in the future! The youth leaders came back to the city envisioning their futures, thinking about what roles they want farming and food to play in their lives.
At a time when so many of us are questioning not only our present, but our future, it is important that our youth recognize their potential to change the course of the nation and the world. Our youth are committed to rooting themselves in community, but there is no telling where they will go from here!