By Abelyna Gonzalez, Crew Leader, 170 Farm Stand
This season we are trying new ways to spread the message that everyone should get their food at farmers markets. With support from my supervisor, I facilitated a lesson with customers called the Fresh Producers.  It consisted of informing local shoppers about where our food comes from. With the help of a booklet made by the Center for Urban Pedagogy (CUP) and the Knowledge and Power Preparatory Academy International High School, we were able to convince at least 10 customers that farmers markets are the way to go. This booklet helped explain the Hunt's Point Produce Market, where the food comes from, where our food comes from, and who's responsible for it.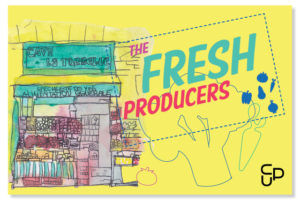 The Hunt's Point Terminal Market "is the largest wholesale produce market in the world". It is so large that produce is delivered everyday by either boat, truck, plane, and trains. They receive food from about 49 states and 55 countries, all that food is then transported to the grocery stores, supermarkets and restaurant.  Getting our food from anywhere may not always be the best option. You don't know where the food came from being from such a far distance. Unlike at the 170 Farm Stand where everything is locally grown and you can actually see exactly where it comes from. The problem in our community is that there is a meal gap. CUP describes it as food insecurity, meaning that families cannot afford to have fresh food year- round.
The main problem is with the government not ensuring that all the food that we have access to is safe and healthy. Also, not making it affordable enough so that everyone can be able to have it. The biggest blame of all is us, the consumers. We keep buying our foods from big corporations and fast food places. The more we buy, the bigger the demand, the more production, and the longer they will be around. If the demand for these type of produce goes up the more they will be around. Our customers didn't take this lightly at all. They were demanding to know more and at the end of the activity, they were told to tell us one difference and a similarity between our farm stand and the supermarkets. Some said our food "has no GMOs or Hormones" and "the presentation is better". The supermarket, however, is year-round and more reliable.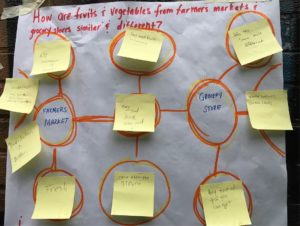 Our activity was a success. The week after I saw new customers asking about the activity, to find out the facts behind the big corporations. Many other people have told me that although they are not coming to the 170 Farm Stand, they are looking for ones closer to their homes.