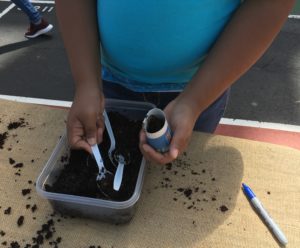 We are excited to announce that beginning in the 2018-2019 school year we will be hosting a FoodCorps member at a new partner school, PS 42, in addition to our FoodCorps member at PS 294! The mission of the PS 42x Claremont Community School is to provide a supportive environment for students and families in the form of academics, enrichment, health and nutrition and college and career preparation. PS 42 already has an active wellness council which they call the "Green Team", and has demonstrated an interest in healthy food and sustainability including several partnerships with other organizations. To kick off our partnership, Community Food Action participated in PS 42's Earth Day celebration on Friday, May 11th.
The Earth Day celebration included a puppet show called "The Big Good Wolf" (an alternate version of The Big Bad Wolf) by CityPark PuppetMobile, as well as planting and activity stations. At Community Food Action's table students learned about the different parts of a plant and planted herb seeds in newspaper pots, which are biodegradable and a great way to reuse newspaper rather than recycling it.
From the way we grow food to how we process, transport, sell, consume, and dispose of it, food plays a huge role in how we take care of our Earth. We are looking forward to continuing to have conversations with students about this and how they can take small actions like reducing, reusing, recycling, and composting to cause less harm to our environment.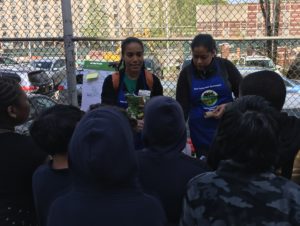 FoodCorps member July and Community Engagement Assistant Violeta leading Community Food Action's activities at PS 42's Earth Day celebration.