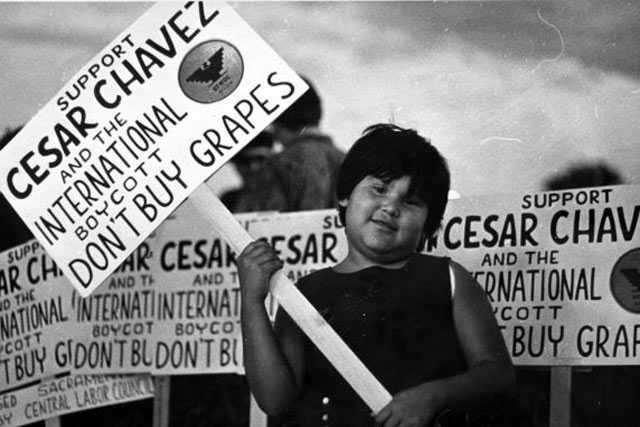 As you grab some delicious fruit at the farmers market or grocery store, do you ever think about the person who picked it? Farm workers have few rights compared to many other occupations in the United States, but they have an incredible history of organizing to build power and forming alliances across racial lines.
On September 8, 1965, the mostly Filipino farmworkers of the Agricultural Workers Organizing Committee (AWOC), led by organizer Larry Itliong, initiated a strike against grape growers in Delano, California to protest poor pay and conditions. The National Farm Workers Association (NFWA), led by Cesar Chavez with mostly Latino members, joined the strike in solidarity and it eventually progressed into a grape boycott which spread across the United States. About a year later, the two organizations joined to form the United Farm Workers of America, a.k.a. Union de Campesinos. They fought for five years until they won a historic contract with the major grape growers in California.
In 1969, United Farm Workers joined forces with the Black Panther Party to boycott Safeway supermarkets. Cesar Chavez wrote a letter to the CEO of Safeway Stores, stating: "Blacks, Filipinos, and members of all minorities will express their solidarity against all oppression by joining their neighbors in supermarkets other than Safeway." The CEO did not take the warning seriously, underestimating the groups' ability to mobilize large numbers of people, and was shocked when the boycott left the Safeway supermarket in Oakland deserted and closed indefinitely.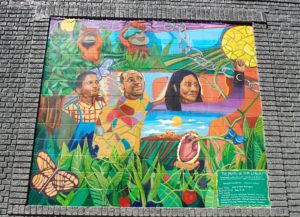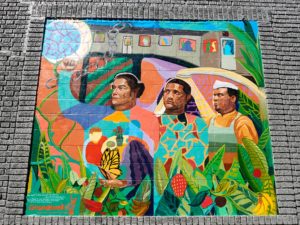 Farm workers are still fighting against unfair conditions, including sexual violence in the fields (see the work of Coalition of Immokalee Workers). You may also remember the boycott of Driscoll's berries organized by farmworkers in 2017. Our agricultural system in the United States, which was created to be dependent on the stolen labor of enslaved people, is now dependent on the labor of undocumented people who are vulnerable to exploitation because of their immigration status.
Last month our sister program in Bed-Stuy, Communities for Healthy Food at NEBHDco, hosted guest speakers from the Coalition of Immokalee Workers at their screening of the documentary film Food Chains, and participated in their Time's Up Wendy's March.
If you're walking around our neighborhood, be sure to check out our mural (photos above) entitled Fruits of Our Labor, which was designed and painted by high school students at CMSP 327 who chose to depict the connection between urban food workers and rural agricultural workers – all of whom do valuable work and play a crucial role in filling our plates each day.
About this series: The fight for fresh, affordable, culturally appropriate food has been part of many social movements throughout history and all over the world. We were inspired by Phat Beets' History of Food as a Tool for Resistance curriculum to share some of these stories, and to connect them with modern-day campaigns for food justice in the United States. Read all of the posts in the series here.
Sources / More Info:
Decolonize Your Diet! workshop series – Phat Beets Produce
The 1965-1970 Delano Grape Strike and Boycott – ufw.org
Five days in pictures: Farmworkers fast for freedom from sexual violence in the fields – New Food Economy
ICE arrests farmworkers, sparking fears in the Central Valley over immigrants and the economy – LA Times
Strawberries and Solidarity: Farm Workers Build Unity Around Driscoll's Berries Boycott – Truthout