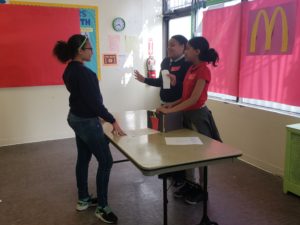 Bronx Helpers performing a skit set in a fast food restaurant.
Beginning in January, a group of middle school students at New Settlement's Bronx Helpers have been working on a countermarketing project in which they learned how fast food and junk food companies manipulate their customers into buying unhealthy food, and disproportionately target Black and Latino young people. And these marketing efforts are working – according to a study, teens exposed to more junk food ads eat more junk food. To counteract this, the Bronx Helpers students (who have named themselves the Fast Food Fighters) have created posters, a video skit, a public service announcement, and a rap – all using the same persuasive techniques that advertisers use, but to send the opposite message: big junk food corporations just want our money, and do not have our best interests in mind.
To prepare for this project, Bronx Helpers and Community Food Action staff attended a two-part Countermarketing Staff Training by the CUNY Urban Food Policy Institute. Students were visited by Oumou Dukuray, a youth alum of the Youth Food Educators Program (YOFE) who has also worked on a countermarketing project. You can watch Oumou perform her spoken word poem about food injustice during the opening remarks of the 2018 Just Food Conference here.
Community Food Action Engagement Specialist Jenina led an activity with the students to find out what topics related to the project they would be interested in exploring further with their community, and to turn those questions into a community survey. Some of the questions they chose were "Do you think that McDonalds cares about your health?" and "Do you see the same amount of McDonalds and other fast food advertisements in wealthier neighborhoods?" The students are currently in the process of collecting community survey responses.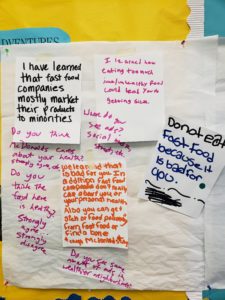 Notes from a brainstorming session to prepare for community surveying.
We are encouraged by the youth's critical view of  big junk food corporations, and excited to see how they share what they have learned with their peers. They will celebrate the culmination of the project and showcase what they have created on June 8th. Thank you to the CUNY Urban Food Policy Institute for providing training and funding for this project, and to Charita Johnson from the CUNY Urban Food Policy Institute, Moria Byrne-Zaaloff from Bronx Health REACH, and Oumou Dukuray from YOFE for providing guidance from their experience with similar projects.