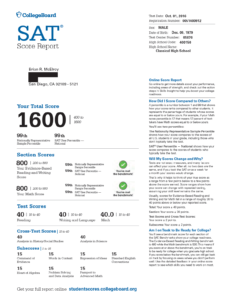 Low-income students who take the SAT and ACT will now be able to send score reports to colleges for free. The College Board will provide unlimited SAT score reports for low-income students starting Spring 2018. In addition, CSS Profile will become completely free for low-income students.
"There should be no cost barrier to the college application process, and the College Board is working with our members and partners in higher education to build on our efforts to remove as many of these barriers as possible for low-income students.
Starting when SAT registration for the 2018-2019 school year opens in April, students who take the SAT or the SAT Subject Tests with a fee waiver will be able to send their official score reports to as many institutions as they want—for free (currently, students eligible for an SAT Fee Waiver can send up to four score reports for free, in addition to the four free score sends they receive with registration—for eight total). This applies to all income-eligible students who take the SAT, whether they take it during a weekend national administration or through a School Day administration.
We will also continue our longstanding partnership with higher education to provide college application fee waivers so that the entire application process will be free for low-income students. Starting in fall 2018, CSS Profile will also allow an unlimited number of CSS Profile applications for first-time, domestic college applicants who take the SAT with a fee waiver or meet income-eligibility criteria.
This new policy means that low-income students can take the SAT and the SAT Subject Tests, apply to college, send their scores, and apply for financial aid at as many colleges as they choose, all for free. This announcement builds on existing efforts by the College Board to clear a path to college for all students."
Click here for more...