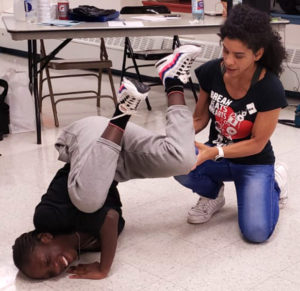 August 20th-September 12th, Tuesdays and Thursdays 5-8pm at 1514 Townsend Avenue
Master classes focused on skill-building, including guest teachers in a range of hip-hop and related styles. Brush up on skills, reconnect with the group or try it out for the first time, if you're thinking of join our longer fall and spring semesters. Due to the brevity of the Summer Academy, it does not culminate in a showcase (like the school year semesters do) BUT catch us at Boogie on the Boulevard, Sunday September 15th, 2pm near 170 for dance demo and lots of fun games!
$20 deposit required to join Summer Academy, refunded in full after participant attends 4 of the 7 sessions*. Girls who attend less that 4 sessions forfeit the deposit. *Academy will not meet on Thursday August 29th.