By Gus Stavroulakis, Farm Stand Manager 
As another harvest season ends, so concludes the 170 Farm Stand. Like many things this past year, there were challenges, but we had plenty to celebrate. We were able to stay open until the last day! By remaining open throughout the season, we were able to provide an essential service to our neighbors in Mount Eden.
Being able to give residents the option of shopping locally sourced fresh produce in their backyard gave our staff great pleasure. Our clients were enthusiastic to see what food we had in stock week after week. With the transition to the virtual work-from-home environment, having a day that did not look like the others helped keep the staff grounded. It was uplifting to speak with residents about the 170 Farm Stand, and to share recipes to cook with our produce. Creating an environment where people can buy fresh, flavorful produce and sharing recipes are always the most pleasant parts of the season.
Keeping everyone safe when shopping during a health crisis and shifting to staffing by Associates made this year at the stand a success. We required that shoppers and staff alike wore masks at all times and maintained social distance. We also set up a hand sanitation station. The Associates returning this year who were previously involved with the Community Food Action Youth Leaders program provided much need support. New Associates stepped into their roles with responsibility and great interest in contributing to CFA's mission.
Our partner organization Wellness in the Schools, Council Member Vanessa Gibson, and outreach representatives with the NYC Department of Health and Mental Hygiene visited to support and chat with community members. It is easy to think about road bumps that made 2020 challenging. However, it is essential to focus on times that brought us joy and a feeling of accomplishment.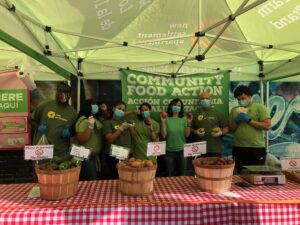 Until next season!