By Gus Stavroulakis, Youth and Farm Stand Coordinator
With a new fall comes a cornucopia of fresh produce for the 170 Farm Stand to provide to the community. This year has been a challenging year, with many changes to the farm stand. However, this season's Farm Stand Associates have made those challenges more manageable. Passion, Reginald, Justin, and Leslie are a group of young people with unique qualities who make the operation of the 170 Farm Stand a success every week.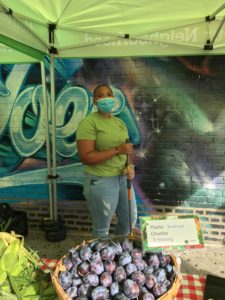 Passion has been with the farm stand for several years as a Youth and then Crew Leader. As an Associate, her positive attitude and great taste in Disney show tunes are uplifting and fun! Leslie is an undergrad at the CUNY School of Public Health at Hunter College. In her spare time, she loves to grapple and train in Muay Thai kickboxing, and also models. As a new graduate from Lehman College with a degree in public health and a resident of the Bronx, Reginald is passionate about improving the Bronx's health. Justin is a hard worker, puts tons of effort into all the things he does, and has an unwavering vision. With this current dynamic environment, these associates are accomplishing Community Food Action's mission.