By Maria Caicedo, Cooking and Gardening Coordinator
Every year at the start of the new academic cycle, we prepare to lead professional development sessions with teachers at each of our partner schools. We seek to further our collaboration around food education and justice by enhancing curricular cross-disciplinary connections using selected children's literature. Teachers are burdened with professional development opportunities. PD fatigue in teachers is real, as is chronic stress.
Keeping this in mind, we've strived to utilize hands-on activities that seek to spark teachers' own interests, and serve as inspiration. Rather than burdening teachers, we aim to create opportunities and spaces for dreaming possibilities together.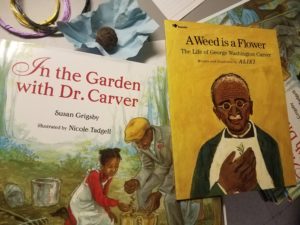 This year's highlighted literature piece was "In the Garden with Dr. Carver", a book about Dr. Washington Carver's legacy in the agricultural field. Following in Dr. Carver's footsteps, teachers observed soil samples taken from the school garden for their soil composition. If too sandy, the soil will hold less water and nutrients, and dry quickly. Soil with too much clay will have drainage problems and, when dry, will be incapable of retaining moisture. "Why should we even care about the soil?", we asked teachers. Metaphorically speaking, we are plants, and the soil is our environment. What if we taught kids to nourish the soil of their school garden? Dr. Carver said, "Whenever the soil is rich, the people flourish, physically and economically. Whenever the soil is wasted, the people are wasted and poor soil produces only poor people."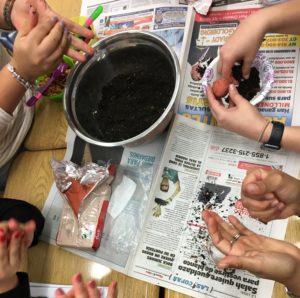 We also introduced teachers to seed-bomb making. Armed with clay, soil and seeds, teachers proceeded to make their seed balls amidst laughs and questions. Seed bombing is a millenary practice that was reintroduced in the 1970s by natural and no-till farming proponent and philosopher, Masanobu Fukuoka. He experimented with seed bombs to explore the idea of "working with, rather than against nature…". Seeds bombs are life "wrapped in a pocket-sized ball of mud", and the ammunition of guerrilla gardeners who position gardening as an act of resistance. By "dropping seed bombs" in abandoned vacant lots, usually in segregated, historically disenfranchised neighborhoods, they claim ownership over the space and exercise power. Justice can be taught through seed bombing and gardening. That too can be an act of resistance.
We absolutely love it when teachers walk away with a renewed sense of wonder and inspiration. One of our participating teachers shared that she "enjoyed the vibe of the room, and that your (our) enthusiasm and love for the natural world is contagious!". Ultimately, what we want to communicate as well is that rekindling our relationship with the natural world is not a matter of novelty or trendiness. As another teacher reflected, "…the living environment is something we need to take care of for our own survival."