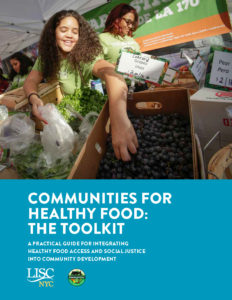 In 2014, Local Initiatives Support Corporation (LISC) NYC launched a new city-wide food justice initiative called Communities for Healthy Food NYC, with the approach of building programs within four neighborhood-based community development organizations – New Settlement Apartments, Northeast Brooklyn Housing Development Corporation (NEBHDCo), Cypress Hills Local Development Corporation, and West Harlem Group Assistance (WHGA). Four years later, LISC NYC has released a toolkit that takes an in-depth look at how the initiative was created, what strategies are being implemented, and the best practices that have emerged from the four original sites' experiences so far. This guide can benefit community organizations, funders, and evaluators interested in leading and supporting initiatives to improve access to healthy food in low income communities.
View and download Communities for Healthy Food: The Toolkit here!
Along with the toolkit, LISC also released a 6-page case study of Community Food Action at New Settlement which highlights our work, our community, and our lessons learned. Take a look, you may see some familiar names and faces!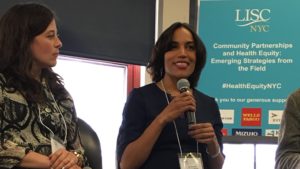 At LISC NYC's Community Partnerships and Health Equity event on April 18th, Community Food Action Program Director Taisy Conk and FoodCorps member July Alcantara sat on a panel about Communities for Healthy Food and the toolkit, taking the opportunity to lift up our school-based work. In the Q & A after the panel, when an attendee asked about how the Communities for Healthy Food initiative can contribute to systems-level change, Taisy offered the response that neighborhood-based programs like ourselves can model a community-responsive approach to food justice, in the hopes that other organizations with strong roots in their communities can follow suit and leverage their own strengths. This way, "policy and systems change can be less top-down, more responsive to individual communities, and more impactful… this is a step towards creating a new paradigm beyond the capitalist food system."
Thank you to LISC NYC for your continued partnership in this work!