The fight for fresh, affordable, culturally appropriate food has been part of many social movements throughout history and all over the world. We were inspired by Phat Beets' History of Food as a Tool for Resistance curriculum to share some of these stories, and to connect them with modern-day campaigns for food justice in the United States. The first entry in our series, we find ourselves in the United States in the late 1960's. Read all of the posts in the series here.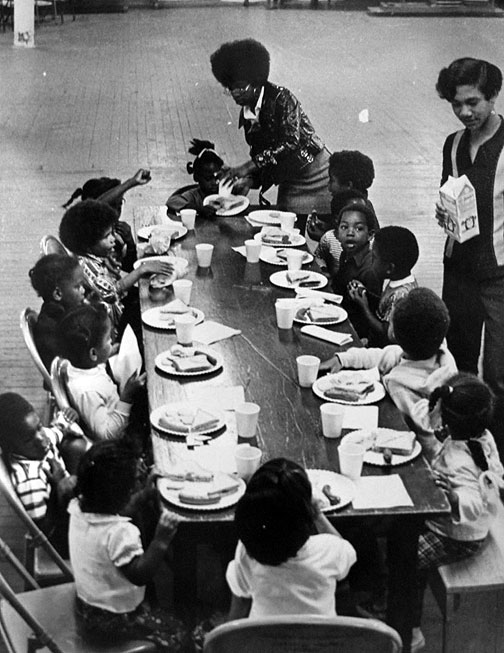 Recognizing that due to systemic injustice, many children in black communities did not have access to the nutrition that they needed to do their best in school, the Black Panthers started the Free Breakfast for School Children Program in Oakland, CA in 1969. The program eventually spread to every major city where there was a Black Panther Party chapter, feeding thousands of children every morning. This was part of what was later called the Survival Programs, with the slogan "survival pending revolution". Black Panther Party co-founder Huey P. Newton explained the concept in this way: "We recognized that in order to bring the people to the level of consciousness where they would seize the time, it would be necessary to serve their interests in survival by developing programs which would help them to meet their daily needs…these programs satisfy the deep needs of the community but they are not solutions to our problem. That is why we call them survival programs, meaning survival pending revolution." The free breakfast program also created a community space for people to share a meal together and learn more about the Black Panthers' campaigns.
The FBI portrayed the free breakfast program as communist propaganda and the Black Panthers as malicious criminals, but the undeniable positive impacts of the Panthers' free breakfast program eventually pressured the federal government to adopt a similar program itself.
Fast forward to present day – breakfast has been free for all public school students in New York City since 2003. Since then, advocates including the Lunch 4 Learning campaign have fought for school lunch to be universally free as well. The campaign celebrated a victory this fall when NYC Schools Chancellor Carmen Fariña announced that lunch is now free for all students in NYC public schools. Public school lunch is also free in Boston, Chicago, Detroit, and Dallas, but this was a big step because the New York City public school system is the largest in the world, serving over 1.1 million students who now have access to free meals in both the morning and afternoon every day.
Sources / More Info:
Decolonize Your Diet! workshop series – Phat Beets Produce
The Radical Origins of Free Breakfast for Children – Eater
Community Survival Programs – PBS
To Die for the People – Huey P. Newton
To Help Learning, City Offers Free Breakfast to All Pupils – New York Times
New York City Offers Free Lunch for All Public School Students – New York Times