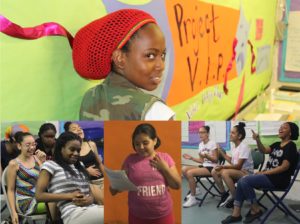 Established at New Settlement in 1997, PROJECT V.I.P. (Voice, Identity, Power) is the foundation on which the rest of the Program for Girls & Young Women was built. This dramatic writing and performance program encourages girls and young women to express themselves through theater, while deepening their knowledge of poetry and literature and building leadership and collaboration skills. Each semester during the school year, an ensemble of up to 18 young women (ages 11-18) meets twice weekly for 75 minutes to play theater games, read and discuss poems and excerpts from plays, novels or articles; and write their own scenes for performance. Recent source material  includes writings by Elizabeth Acevedo, Julia Alvarez, Eve Ensler, Assata Shakur and Jamaica Kincaid; comics featuring girl heroes, song lyrics, news articles and more. Each ensemble draws on the in-class readings and conversations for inspiration as they write their own poems and plays through a collaborative process we call "improv writing," in which actors improvise with characters, setting and basic plot ideas. These improvised scenes are recorded and later transcribed, edited and refined. Ensemble members vote on their favorite material to include in the show, and the ensemble performs their work for the community at the end of each fall, spring or summer session. During the summer intensive, approximately 25 participants (aged 10-15) follow a similar process, meeting three times a week for six weeks, and presenting their work at the end. Project V.I.P has created and presented more than 60 original plays, to date. VIP will meet once a week remotely this fall. Visit Fall 2020 for current program schedule, Covid-19 safety measures and to enroll.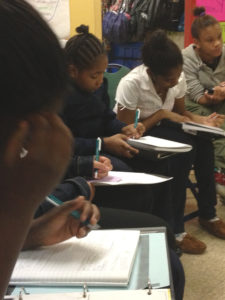 Artists, Actors, Activists. Each ensemble brainstorms themes and topics of interest for the upcoming semester, and themes are selected with an eye toward their relevance to the lives of participating youth and the surrounding community. Recent topics have included double standards, stereotypes (cultural, racial and gender-based), super heroes, teen pregnancy, media representation and just … growing up "Girl." The teaching artists research and prepare readings, writing prompts and improvisation topics based on the issues and theatrical forms that are of greatest interest to the group. Participants are encouraged to address issues of social justice with their work, and envision solutions or steps forward when able. Finalized scripts for the performances are developed by the ensemble through a collaborative creative process. Participating girls are the playwrights, poets and performers, and over the course of the semester they learn to support and respect each other as ensemble members and sister creators.
Project V.I.P. is supported, in part, by a Community Arts Grant from the Bronx Council on the Arts.