Is there a dancer in your life? Support her with a donation to our NLD Retreat fund!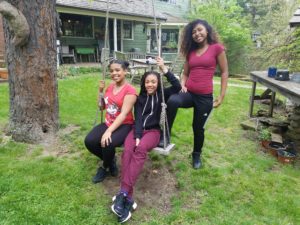 Twice a year, on average, the most dedicated dancers are invited to attend overnight retreats upstate, where they stay in a beautiful lake-side property for 3-4 days. Here they focus deeply on their craft and well as "inside work" — personal reflection, team building, overcoming insecurities, setting personal and squad goals, and filming short videos.
The dance program as a whole is offered at no cost to girls' families, in order to create access to high quality instruction for families that might not be able to afford expensive dance classes. However, we do ask our dancers to participate in fundraisers – like this one! – to help offset the cost of these retreats. The retreats are made possible, in part, by a generous space grant for their lodging. But the cost of transportation, studio rental (for rehearsal and filming), and food still add up. We don't want to ask dancers' families to pay the full cost themselves, so we ask you to help out – any amount is welcome!
All donations are tax-deductible. To donate by credit card, use the form below.
Want to donate by check?
To donate by check, make payable to "New Settlement Apartments" and include "NLD Retreat" on the memo line. Mail to New Settlement's Program for Girls & Young Women, 1512 Townsend Ave, Bronx NY 10452. You will receive a thank you letter for tax credit.
Interested in making an in-kind donation?
To inquire about in-kind donations (such as costumes, meals, services, or space) or offer another type of support, please contact Program for Girls & Young Women Director Joy Leonard at (718) 716-8000 x119, or via email j.leonard@newsettlement.org.
Next Level Dance 2019 Retreat (MLK Weekend)