By Taisy Conk, Program Director
The Jerome Avenue Public Health Taskforce is developing a neighborhood health plan. The Taskforce was chartered by the New York City Council after they approved the rezoning of 92 blocks of a commercial corridor along Jerome Avenue in the midst of resistance and demands led by the Bronx Coalition for a Community Vision. The Taskforce is facilitated by the NYC Department of Health and Mental Hygiene. Community Food Action and other New Settlement staff serve as members of the Taskforce along with many other community organizations and institutions.
This October, we held our second Town Hall to give an opportunity for folks to give feedback on draft recommendations on topic areas like food, public spaces, education, and housing. The Town Hall was an opportunity for those who live, work, and go to school here to share ideas on how the city can improve the health of our neighborhoods. This is about the future of our schools, small businesses, community spaces, and homes.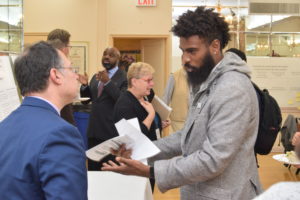 Here's some of the important issues raised during discussion:
Accessibility in public spaces, from elevators on the subways to ramps at the post office
Street food vendors: Providing training and support; removing barriers
Food safety: Training and monitoring for restaurants, delis, and street vendors
More supermarket style and fresh produce at food pantries
Ensuring local jobs, and getting the word out about job opportunities
Mental health disparities and awareness
Youth involvement
Thank you to those who lifted up your ideas! If you didn't get to attend the Town Hall, there's still time to share your thoughts. You can fill out a survey here. The final recommendations will be issued by the end of 2019.
The Taskforce is also discussing the future of this collaboration. All members agree that we do not want to disband after we issue the recommendations. New Settlement recognizes that policy change comes through community organizing. For example, Right to Counsel was a win of our tenant organizing program CASA. We appreciate that the City Council requested and is awaiting our recommendations. Still, we know that the recommendations are more likely to be implemented if we mobilize the community around this work. Stay tuned for the future of this effort!