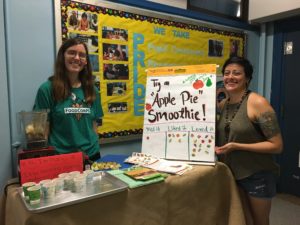 Mary is Community Food Action's FoodCorps Service Member serving at PS 294 for the 2019-2020 school year. Mary is passionate about environmental justice and believes in the importance of a connection to the Earth for our mental and physical wellbeing. Inequalities in who can benefit from and protect the natural world, especially in this time of environmental catastrophe, led Mary to this work. A cooking, gardening, and eating enthusiast, Mary aims to foster a positive and joyful attitude around foods that connect people to their cultures, the Earth, and each other.
Mary shares her motivation to serve with us in New York:
"My aspirations to help people and the environment used to be abstract, not rooted to one place. I grew up in Florida but took every opportunity to keep moving. My university education began with two years in France. I found opportunities to work and study in India, Jordan, and Kenya.
When I moved to New York City in 2017, however, I stumbled into a community that compels me to stay. New York is a place of energy, of culture and diversity. It is also a place where people who eat $15 kale salads live around the corner from people whose grocery budget for the week is $15. In New York, 8.6 million people live squashed together surrounded by concrete, and it therefore also requires great innovation for anyone to feel a connection to nature and the food they eat.
The more I learn, the more convinced I am that changing the world doesn't happen from above, but most effectively comes from people who intimately know a place, its people, and its problems, and who stick around to do something about them. I want to do just that."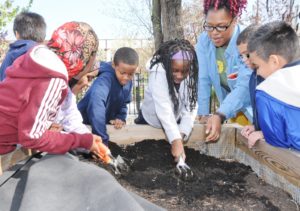 We are thrilled to have Selma Nuñez return as our FoodCorps Service Member at PS 42. Selma was PS 42's very first service member and she made great strides last year.
Selma says, "My overall vision for this school year at the Claremont community to is to strengthen the connections and systems that were established last year more intentionally for each service areas."
Selma is already planning a tribute in celebration of Hispanic Heritage Month by mapping out a family tree, making a community playlist and identifying the flags of Spanish speaking countries. Selma also plans to work collaboratively with staff to further increase the math competencies through hands on learning, which is an academic goal for the school administration.