During the farm stand season, our team at Community Food Action expands to include our Youth Leaders. In addition to this role, we also have Crew Leaders, youth returning for a second year of work with CFA with greater responsibilities. This season's Crew Leaders are Passion Jackson and Manuel Ureña.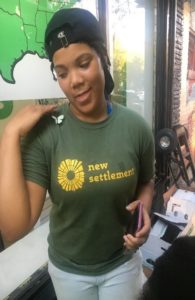 Passion is 17 years old currently attending Aquinas High School in the Bronx. Last year Passion assisted with community outreach at the 170 Farm Stand's Compost on the Go Station. Passion remains interested in learning about compost and sharing the importance of composting with the Mt. Eden community. For Passion this opportunity is a "great opportunity to learn and get out of your comfort zone." We know Passion's potential as an educator, for community members and her peers, and we can't wait to have her back in action with us this season!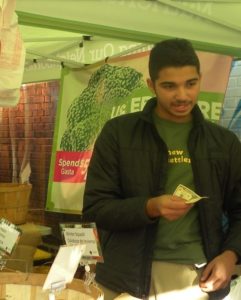 Manuel is 16 years old attending High School of Energy and Technology in the Bronx. Last year, Manuel found his strength in educating community members about the health benefits of the produce sold at the farm stand, and how to cook and eat them. When he reflects on his experience as a youth leader, what stands out to Manuel is the relationships that he built with community members. Now he is looking to improve his Spanish in order to better serve our Spanish-speaking customers. He also built relationships with his fellow youth leaders commenting, "I grew into myself by making new friends and becoming outgoing." We know that Manuel's ability to connect and educate will make him a key player this season.
Our team at CFA strives to be collaborative, depending on input from our youth and the sharing of power between adults and youth. Our Crew Leaders will strengthen our team through their insight and participation, while improving their own professional and personal skills. They're blossoming, and our responsibility as adult staff and allies, is to do what we can to orient them towards their bright futures.