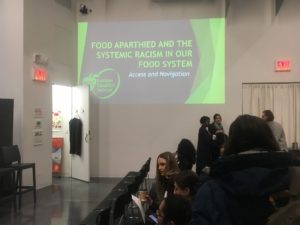 On January 25th, the Community Food Action Staff attended the NYC Nutrition Education Network's discussion on "Food Apartheid and the Systemic Racism in the Food System." Since we at CFA envision ourselves to be an important part of the struggle against both food apartheid and a racist food system, we sought to educate ourselves further on what other individuals in the movement are doing. As we heard at the talk, other individuals in the world of nutrition, cooking, and farming, desire a coming-together, as well as a learning-together. Many voiced their desire to begin to pool our resources as organizations and individuals, so that we can maximize the impact that we want to have in the food justice movement.
There were multiple lines of work represented on the expert's panel: urban farming and youth development, culinary education, health and wellness in the university, health and wellness for the formerly incarcerated. At the core of everyone's mission though, is the belief that if power flows through an unjust distribution of nutritious and fulfilling food, the resistance must happen through a redistribution of healthy and culturally appropriate food, as well as other services that furnish a complete life.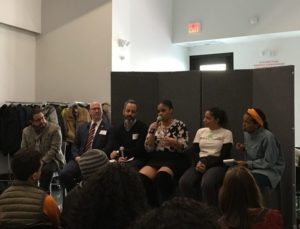 Moderator Frances Perez-Rodriguez immediately got to the crux of the issue. It was important to call these systems by their name. Therefore, the talk began with definitions of the terms "food justice," "food apartheid," and "food access." In small groups, individuals discussed the major challenges faced in serving their communities as well as solutions. In the face of this system, remaining staunchly dedicated to justice through analyzing injustice is important. It is just as important to remain solution oriented. This approach is indispensable to social justice work as it instills hope and direction for our movements, which can so often be characterized by fatigue and hopelessness.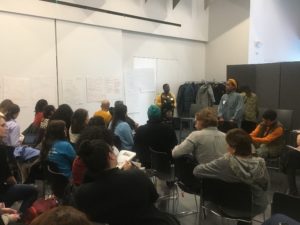 The Nutrition Education Network's panel reflected a changing tide in the food justice movement in New York City. The discussion reflected the desire to bring everyone in, no matter what food work they are doing. It created room for discussing discomfort, for "learning into it," as moderator Frances Perez-Rodriguez put it. This new tide of food justice is characterized by new visionaries from different walks of life and disciplines, who refuse to remain isolated in their work, and choose to come together to hold each other accountable in the work we are doing. Here at Community Food Action we want to join the collective mission while bringing in the community we strive to serve. Here at CFA, we want to know how we can learn, work, and eat with the community of Mt. Eden.
By Charlene Francois