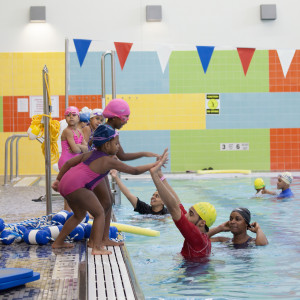 New Settlement Apartments (NSA) is proud to have collaborated with three new public schools in our community to open the New Settlement Community Campus on Jerome Avenue. Motivated by our demonstrated commitment of 26+ years to revitalize the neighborhood and improve the quality of public education provided to our community's children, New Settlement conceived and realized the beautiful Community Campus (public schools, adjacent community center and playgrounds) through an innovative partnership launched in 2007 with NYC Dept. of Education, School Construction Authority, Settlement Housing Fund, architects, educators and community leaders. The Campus opened in September 2012 on a square block of land on Jerome Ave. between 172nd St. and Goble Place that was cleared for this purpose in the low-income Mt. Eden neighborhood of the Southwest Bronx. New Settlement Apartments is the lead community partner with NYC Department of Education in operating these community schools, now in their fifth year and serving 1,100 students, grades K-12.
Today, the New Settlement Community Campus consists of (a) three all-new public schools located in a single, beautifully designed building with indoor gyms, a library, health clinic and outdoor playgrounds, and (b) an adjoining, all-new community center of 28,000 square feet with state-of-the art facilities, including an indoor Aquatics Center with a large swimming pool with natural light and a green roof with garden.  The three schools on the Community Campus that are engaged in this partnership with NSA include PS 555 (Mt. Eden Children's Academy), a K-5 school; MS/HS 327 (grades 6-12); and PS10x, a satellite campus of District 75 serving students with autism. The schools enroll students from the Mount Eden, Highbridge, Mount Hope, Concourse West and Concourse East neighborhoods and other surrounding communities of the southwest Bronx (CD 4, adjacent to CDs 3 and 5).
Today, the New Settlement Community Center serves students from the three schools, their families and members of the surrounding community with a range of programs in health and nutrition, education, youth development and the arts.