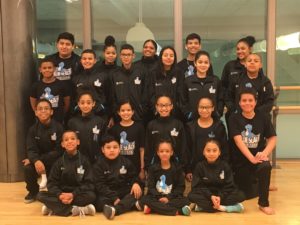 The Blue Seals swim steam started in 2015 with fifteen students ages 7-17. We compete against other swimming teams from the New York/New Jersey Metro area. The team has grown in number and victories. We are now competing at regional events around the east coast. We have over 35 swimmers on our team year-round. Our team operates out of the Aquatics department at the New Settlement Community Center, which teaches several thousand children from the Southwest Bronx how to swim each year.
New Settlement 

Blue

 

Seals

 Competition Swim Team will be participating in a 
2022 Ron Nardozzi Pre-Derby Sprint Meet 
located in Orlando April 23 and 24. The swimmers that qualify for this event are all part of Team A and many of them have made Silvers and/or Junior Olympics cuts. The swimmers that are participating in this event are Gilian Siguencia, Isabella Soriano, 
Lizbel Cespedes,
 Andy Duarte,
 Xavier Guevara, Javon
 Hopkins, and 
Lyla Maza. 
Our dedicated 

Blue

 

Seals

 swimmers have been training all year long to elevate to the next level. The best transitional time for our swimmers to meet other qualifying swimmers across the US is during Spring Break or the second week of August. During this transitional time, swimmers are moving from short course season that runs from September 1- April 1 
to long course season that runs from May 1 – August 1. Our head coach Magdy Shokry has many connections with numerous coaches and has found a swim meet in Orlando Florida! 
 Thank you for your continued support. 
Blue
Seals and New Settlement Community Center.
Our hope is that you would serve as a sponsor of our Blue Seals Swim Team. The funds raised are being used to assist with:
1) booking a flight to take our coaches, swimmers and their parents from New York to Florida
2) for accommodations to house them for 5 nights
3) to assist with meals for the swimmers
4) any additional necessities at the meets.
Please find it in your hearts to help the Blue Seals finish the season strong. Any donation amount will help whether it's $5 or $5,000.
Lastly please help this go viral. SHARE! SHARE! SHARE! with everyone you can. Let's show these amazing young people they have the support and invest in their future.
Blue Seals Swim Team