Join us to help celebrate tenant power, Bronx power and CASA POWER!!
This year, CASA will be celebrating resistance. This has been a year of incredible wins from making history by establishing a right to counsel in housing court, getting the Rent Guidelines Board lower their initial rent increases, and building a strong coalition to fight the proposed rezoning of Jerome Avenue.
CASA is proud to be a part of a long history of resistance in the Bronx, New York City and across the country and world! On October 20, 2017, we will celebrate this long history and the work CASA members have done to build the power necessary to take this legacy of resistance and resilience into the upcoming fights.
So as we celebrate our our growth and our community–that means you! Come celebrate all that you've done to help build CASA POWER and tenant power throughout NYC!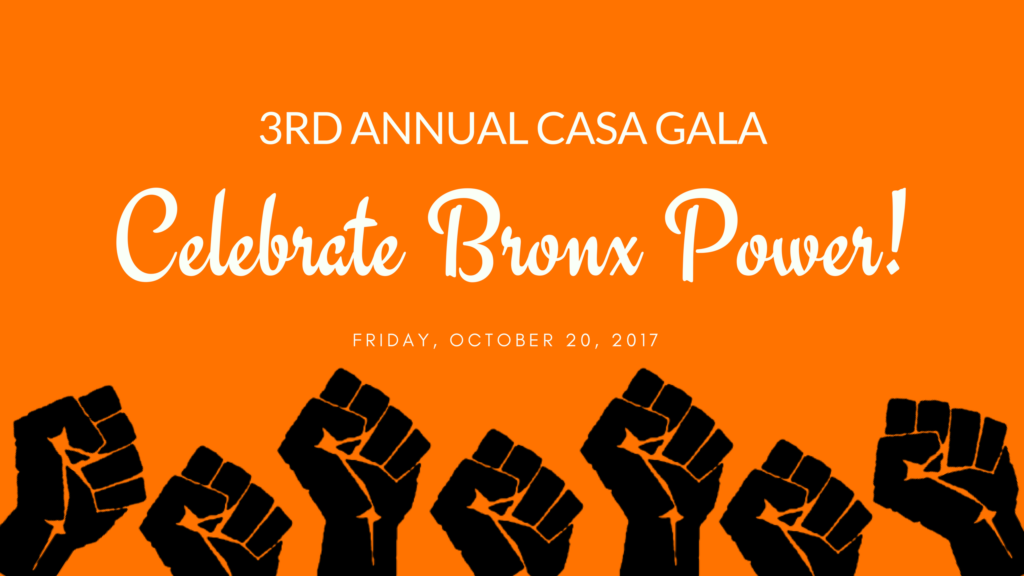 Hors d'oeurvs and cocktails will be served at 6pm and the program will begin at 7pm. Following the program, we will have a light dinner, music and a raffle!
Purchase your tickets and sponsorship packages at casagala2017.eventbrite.com or make a check out to "New Settlement Apartments" with CASA GALA 2017 on the memo line and mail to:
c/o Sheila Garcia
1512 Townsend Ave
Bronx, NY 10452
Can't make it? Consider purchasing an a ticket to sponsor a CASA member!
Thank you for your contribution. All but $20 per ticket is tax-deductible.