On Friday, August 11 2017, New York officially became the first city in the country to establish a right to counsel! Mayor Bill de Blasio signed Intro 214-B in the Bronx making it a right for tenants facing evictions to have a lawyer in Housing Court!
This will mean that tenants no longer have to fear unjust evictions. This will mean that tenants no longer have to fear eviction as retaliation for organizing in their buildings or holding their landlords accountable. This will mean that we have more tools to fight gentrification. This is a victory for all of New York.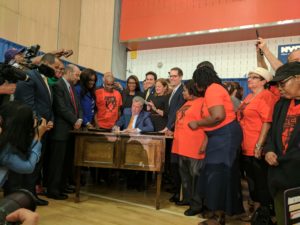 The City took a stand to say that tenants will no longer be forced to navigate the courts without representation and that they will be protected. Today is a huge step forward towards creating a more equitable and just city.
Together, we built the power, strength and organizing to make this happen! ¡Si se puede, si se pudo y si se podrá!
To celebrate, CASA's Solidarity Board launched a fundraising drive to celebrate the leadership CASA members took on behalf of tenants across NYC and to continue to lead these kinds of groundbreaking fights for justice. Join them by donating HERE!
A huge thank you and congratulations goes out to all the members of the Right to Counsel Coalition for your tenacious and principled organizing and Intro 214-B co-sponsors Councilmembers Mark Levine and Vanessa Gibson for your steadfast championing of our bill!