In response to the staggering amount of Major Capital Improvements tenants are experiencing, tenants from CASA and the Northwest Bronx Community and Clergy coalition facing permanent monthly rent increases from Major Capital Improvements (MCIs) are joining forces to call for policy reforms at the state level. The No More MCIs Coalition is made up of 18 buildings where 1,470 families fighting over $13.6 million in permanent rent increases.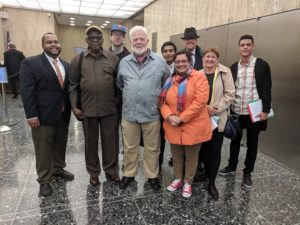 In October 2017, we presented our recommendations to the with the New York State Division of Homes and Community Renewal to make immediate changes to initial notices are clear and understandable, documents are available in languages other than English, give more time for tenants to oppose MCIs, and make tenant consent a requirement among other policy reforms.
The Coalition met face to face with DHCR Executive Officials including Commissioner Ruthanne Visnauskas to share how MCIs are being used as a tool of displacement and present the demands. If you are facing unexpected rent increases, join us to demand real changes!
Contact Pablo Estupiñan at 718-716-8000 ext 243