Join with PAC, the NYU Metrocenter and the NYC Department of Education and participate in the 2018-2019 Critically Conscious Educators Rising Series! The goal is to convene like-minded stakeholders who are committed to equity and justice in education for racially, culturally and linguistically diverse students while building a community of critically conscious educators who will turnkey information within their individual spheres of influence. Please fill out the application by clicking on this link: Registration for Culturally Responsive Education Trainings
This Training Series are occurring as a result of PAC's campaign for Culturally Responsive Anti-Bias Trainings for all School Staff.
If you are new to CCER and did not attend either the 2018 CCER March/April two-part series or a session in June of 2018, then you are required to attend one of the foundational sessions in order to participate in one of the #2019CCER cohorts. Each foundational session will take place from 9AM – 3 PM at NYU.
-Saturday, September 29, 2018
-Saturday, October 6, 2018
-Saturday, October 13, 2018
More information will be emailed to you.  This is a seven part series that will run from October to April or May.  District 9/11 School Staff should sign up for Cohorts 4, 6 or 8.  Parent Leaders and Community Members should sign up for Cohort 10.
Contact Chauncy for additional information.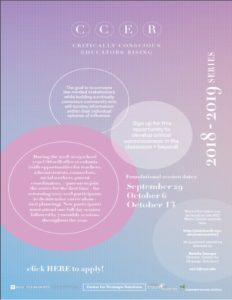 CCER_Poster_1819_180913_Link