Our Mission
The PAC School Safety Campaign aims to disrupt the School-to-Prison Pipeline. We fight to reduce suspensions, arrests, and court summonses in Bronx public schools by advocating for positive school climate, increased social and emotional supports for young people, and restorative discipline.
Our History
When the first Student Safety Act data was shared in February 2012, PAC learned that the Bronx had the highest numbers of school-based arrests and summonses. We committed to support our schools in building positive school climate rather than relying on suspensions, arrests, and summonses – practices that are linked to higher rates of dropping out from school and entry into the criminal justice system.
In June 2012, we hosted the Bronx People's Hearing on School Justice.  Top officials from both the NYPD School Safety Division and the Department of Education's Office of Safety and Youth Development (responsible for the Citywide Discipline Code) came together to hear firsthand from community members who have been directly impacted by harsh discipline practices. Community members offered numerous proposed solutions during the event, and officials agreed to engage in  follow-up meetings to discuss how these solutions could be implemented over the coming school year.
The Bronx School Justice Working Group is the result of those meetings. Bronx School Justice, comprised of officials from the Department of Education and NYPD School Safety Division, as well as students, parents, educators, juvenile defense attorneys and advocacy organizations, held its first meeting in August 2012 and has since met monthly in our community meeting space at 35 Marcy Place in the Bronx.  More recently, representatives from the Bronx District Attorney's Office and Police Officers from the NYPD 44th Precinct have joined our working group. Together, we are ensuring that our push for restorative discipline spills out of our schools and into our neighborhood.
Our Current Work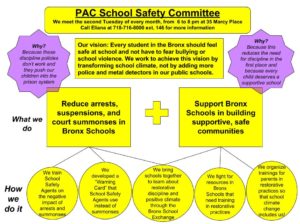 Advocacy for Restorative Justice staff, training, and coaching in our public schools: We believe that every school should have access to the resources it needs to successfully change its school culture and discipline practices.
Community-led training for School Safety Agents: We train every graduating class of School Safety Agents at the New York Police Academy on the collateral consequences of school-based arrests and summonses and the positive impact of restorative alternatives. We conduct this training in collaboration with two of our community partners– the Children's Defense Fund and the Bronx Defenders. To this date, we have trained over 1,000 School Safety Agents.
Training for parents and community members in Restorative Conferencing and Conflict Mediation: We have a vision of a safe and supportive neighborhood in which community members have the skills to deescalate and mediate conflict, creating community-driven alternatives to arrests in our schools and in our streets. Contact us if you share this vision and want to participate in a future restorative justice training!
Counselors, Not Cops:
Resources