"New Settlement will continue to provide access to resources that support young girls and women to make their own decisions regarding their health and bodies, as well as encouraging them to use their voice when their human rights are under attack." -Rigaud Noel, Executive Director, New Settlement
By SÍLE MOLONEY
Bronx, City & State elected officials have weighed in with the thoughts following the formal decision announced on Friday, June 24, by the Supreme Court of the United States (SCOTUS) to overturn the landmark Roe vs. Wade legislation which guaranteed the right to an abortion. Most were opposed to the decision, which though expected following a leaked memo several weeks ago, sent shockwaves across the country, prompting mass impromptu protests, including outside the Capitol building in Washington D.C.
Bronx Borough President Vanessa Gibson said, "Just like millions of other women across our nation, I am in a complete state of shock and anger today by the Supreme Court`s decision to overturn decades of progress made to ensure women had a right to access safe reproductive care without government interference. Today`s decision is a fundamental threat to reproductive freedom, bodily autonomy, and to our basic human rights in this country."
She added, "Abortion care is healthcare, and thanks to Roe v. Wade, millions of Americans have had access to reproductive care. Shame on this Supreme Court for overturning fifty years of progress in this country. Today's decision is shameful and a slap in the face to our mothers, grandmothers, sisters, aunts and advocates who fought long and hard for reproductive freedom but we must use this moment in time to mobilize like never before."
"To all of those who are watching today's events unfold in fear, in anger, in rage, in depression, and in anxiety, one thing remains steady: we will not stop fighting until this is fixed.

And I say that to my colleagues on the other side of the aisle: We are not going away." pic.twitter.com/EPDHmcPTgF

— Rep. Alexandria Ocasio-Cortez (@RepAOC) June 24, 2022
Gibson concluded, "Regardless of any decision made in Washington, we will always stand up for women and birthing individuals in our state and anyone else seeking abortion care. Today is a very sad day in our country."
Congresswoman Alexandria Ocasio-Cortez (NY-14) said, in part, "To all of those who are watching today's events unfold in fear, in anger, in rage, in depression, and in anxiety, one thing remains steady: we will not stop fighting until this is fixed. And I say that to my colleagues on the other side of the aisle: We are not going away." Her extended comments can be watched in the attached Tweet.
New York City Mayor Eric Adams said, "Two days in a row, politics came before people at the highest court in the land, and, as a result, the health of our nation now hangs in jeopardy. What the court has done today ignores the opinions of the majority of Americans, as it helps states control women's bodies, their choices, and their freedoms. There is nothing to call this Supreme Court opinion but an affront to basic human rights and one that aims to shackle women and others in reproductive bondage."
He added, "Reproductive care is health care, but, put simply, this decision puts lives at risk. To all New Yorkers: I want to say that they can still access safe, legal abortions here in New York City. And to those seeking abortions around the country: Know that you are welcome here and that we will make every effort to ensure our reproductive services are available and readily accessible to you. This city will continue to respect, protect, and fulfill the core tenets of our fundamental rights to bodily autonomy and quality, critical, health care for those seeking access to an abortion."
Adams said anyone looking for more information on abortion providers, payment support, and additional resources available can visit New York City's abortion access webpage.
State Sen. Jamaal T. Bailey (S.D. 36) and chair of the Bronx Democratic Party, wrote, in part, "I am heartbroken that my daughters will grow up in a country where they will have fewer rights than the generations that came before. As a result of today's SCOTUS decision, millions will lose the freedom to make decisions about their reproductive health & futures."
Assemblywoman Nathalia Fernandez (A.D. 80), candidate for New York State Senate in District 34, said, "Today is a devastating day in American history. The Supreme Court struck down a fundamental right to bodily autonomy after a years-long right-wing campaign against women. Let's be clear: freedom over our own bodies should not be something we have to fight to attain. It should be ingrained in the fabric of our society as a fundamental human right."
She continued, "This decision will impact millions of people around the country, and disproportionately endanger low-income people and people of color. This is not the future women's rights activists fought for, but the fight is not over. I will continue to fight to ensure that New York welcomes all women seeking reproductive healthcare. Reproductive rights are human rights."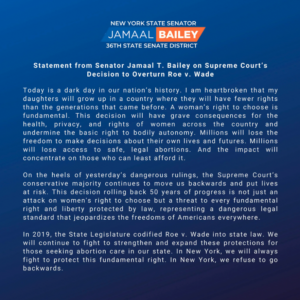 State Sen. Alessandra Biaggi (S.D. 34) who is currently running for congress in NY-17, said she was very rarely at a loss for words, but today she nearly is. "Let me be clear: Today is a nightmare for our nation. The Supreme Court has made the barbaric decision to overturn Roe v. Wade, the landmark case which upheld the right to an abortion in the U.S. for 50 years. The implications of this decision cannot be overstated –– abortion will be banned effectively in at least 22 states and give others the green light to enact further restrictions on reproductive care –– a ruling that flies in the face of what the public wants, even in the states that will soon move to ban abortion completely."
The senator said the country was in this position because of "a decades-long, right-wing religious extremist campaign to take away [people's] rights and control women." She added, "It is also the result of a failure of Democrats to do what needs to be done to protect abortion access and abortion rights. Today must be a call to action to use every tool possible at the state and federal level to expand and protect access to abortion."
Biaggi said abortions will not end with the decision, only safe abortions will. "Countless women will die as a result of the Court's actions today. And it is Black, Latinx, LGBTQ+, immigrant, young, and poor individuals who will suffer the most," the senator said.
She said Congress must codify the right to an abortion and repeal the Hyde Amendment "IMMEDIATELY, WITHOUT DELAY –– the legislative provision which bars the use of federal funds to pay for abortion, except in instances of rape or incest." She continued, saying that, "While New York took critical steps to protect and expand abortion rights and access this legislative session, our work is far from complete. New York must provide continued support to people seeking care, abortion providers, and abortion facilitators, and pass the Equality Amendment."
The senator said the Supreme Court today no longer represents the interests of the American people nor, she said, can it be trusted to protect civil liberties and fundamental rights. She reiterated her calls for Congress to expand the Supreme Court."
She concluded saying abortions are more than just life-saving healthcare, that they provide individuals with autonomy and control over their bodies and lives – a basic American right. "We may have known this was coming, and the fight is not over, but as a member of the New York State Senate, as a New Yorker, as a Catholic woman, and as an American, I am horrified and am filled with rage."
Assemblymember Jeffrey Dinowitz (A.D. 81) said, "Today is a dark day for our nation as this radical, extremist Supreme Court strips Americans of body autonomy and their rights to healthcare and privacy. Despite Republicans believing otherwise, this ruling will not stop abortion – it will limit access to safe abortion, unfairly impacting our most marginalized communities and putting lives in danger."
He continued, "Roe v. Wade had over 50 years of precedence and is broadly supported across the country – Republicans will not stop their attacks on women, on reproductive healthcare, and on equality here. There is clear hypocrisy at play – just a day after the court struck down New York's gun regulations, it will allow red states to regulate Americans' bodies and their healthcare decisions. I will continue to fight tirelessly to protect access to abortion and reproductive healthcare. Here in New York, we must pass the constitutional amendment to protect abortion and I fully support the governor's efforts to call a special session to get it done."
Rigaud Noel, executive director of New Settlement, a community-based housing nonprofit, also issued a statement on the SCOTUS decision on Friday, saying, "New Settlement will continue to provide access to resources that support young girls and women to make their own decisions regarding their health and bodies, as well as encouraging them to use their voice when their human rights are under attack."
NYC Health Commissioner Dr. Ashwin Vasan also issued a statement opposing the decision by the Supreme Court decision to strike down Roe V. Wade. His statement can be read in full above.
Congressman Jamaal Bowman (NY-16) said, "Today is a dark day in American history. We knew it was coming, but that doesn't make it any less devastating. I want to first take a moment to send a message to everyone who today lost this fundamental, sacred right: we are with you, and we will not stop fighting with you. If you are in need of an abortion and you are in a state where you lost that right, New York will welcome you. We will do everything in our power to help you exercise your rights."
He added, "Our country today failed the millions of Americans who will suffer from this inhumane, dangerous, and deadly ruling — especially the poor and people of color who will suffer and die the most. Every Senate Democrat, and every Senator who claims to be pro-choice, must be united and act now to restore and protect abortion rights and pass the Women's Health Protection Act."
The congressman continued, "This was not merely a court ruling, this was an attack – one that was planned by far-right extremists and carried out by the United States Supreme Court. This ruling is about controlling women and robbing them of their right to make decisions about their own bodies and healthcare. This is an outright attack on the overall freedoms of women across this country."
Bowman concluded, saying, "Let's be clear: between sham appointments, stolen seats, and extreme verdicts like this one today, the United States Supreme Court has lost its legitimacy. For our democracy and governance to work, we must restore the legitimacy of the Court. The best way to do that is to expand the Supreme Court and restore a level of balance that has eroded over the years. This is a dark day, but today the fight begins – the fight to restore abortion and reproductive rights in every state in the country . We must prevail, and I believe we will."
District 11 City Council Member Eric Dinowitz, said, in part, On June 24th, the Supreme Court of the United States made the decision to
overturn Roe V. Wade after nearly 50 years of precedent which will effectively strip millions of Americans of their right to safe and legal abortion."
The councilman added, "Even though we knew this was coming, today will go down in history as an egregious reversal of human rights and will result in not only a lack of bodily autonomy, but actual death. The right-wing, activist, unelected, majority of Justices on the Supreme Court have decided that millions of women and birthing people do not have the power to make decisions that will alter the course of their lives. Let us be clear, this is not "Pro-life," this is forced birth. We now find ourselves in an unbelievably precarious situation, and terrified for the future of our nation."
He continued, in part, "Abortion is healthcare. Healthcare is a basic human right. One of the most life-altering decisions that someone can make has now been made for them, with no regard for how they want to live in this world. Rightfully so, our trust in our own federal government is shattered. It has been six years since Donald Trump was elected to the highest office in the country, and we are terrorized by his agenda to this day."
The councilman said that like many regressive policies, the SCOTUS decision would disproportionately affect communities of color, specifically Black women and birthing people who, he said, already face extremely high maternal mortality rates. "To call this anything other than an act of violence would be an understatement," he said. "This directly puts the lives of our fellow Americans at risk, and we are now on a descent into a hellish reality of pain and agony. Basic human rights are being stripped away in front of our faces, and the trajectory of one's life is no longer a choice they can make for themselves."
Dinowitz continued, "The SCOTUS has effectively told millions of Americans that their life, liberty and pursuit of happiness does not extend to them, and they are establishing a precedent that opens the door to further draconian mandates. To force birth upon people is clearly unconstitutional and it does not require intimate knowledge of the law to recognize this. It impedes upon one's right to autonomy, privacy and humanity. The wellbeing of our citizenry has once again been hijacked by extremist ideologies and it is frighteningly evident today, as this marks the first time in recent history that a constitutional right has been ripped away."
He concluded, 'I, like the majority of my fellow Americans, am enraged and devastated for what this means for the United States moving forward. As of today, 13 states across the country will automatically ban abortion, some going as far as banning it despite the health and safety of the pregnant person, as a result of rape, and even incestual rape. In addition to those states with outright bans, many other states will heavily restrict abortion access with nonsensical limits on the number of weeks that a person is pregnant. We have seen over the past 24 hours that this court, and the Republicans who purposefully shaped it, have zero regard for human life and zero regard for the will of the people. I vow to do everything in my power to protect the rights of New Yorkers and ensure that our City is a safe haven for people all over the country. "
Meanwhile, the Conservative Caucus released the following statement on the decision. "Life wins. Today, the U.S. Supreme Court overturned Roe v. Wade, the infamous decision that falsely claimed to have found a right to abortion in the U.S. Constitution. For half a century, legal scholars across the political spectrum have called Roe nonsensical. There is simply nothing in the Constitution about abortion, they noted correctly. Supporters of Roe long ago gave up on arguing otherwise, and have been reduced to arguing that it could not be overturned because it is precedent – that, once a mistake is made by the Court, that mistake can't be corrected."
"What nonsense!" said Peter J. Thomas, chairman of the Conservative Caucus. "Under the argument put forth by Roe supporters – the idea that the Court can't overrule its own errors – criminal defendants could be denied state-funded legal representation, newspaper editors could be arrested for advocating resistance to the draft, people could be wiretapped without a warrant, and schools could be segregated by 'race.' African-Americans could be denied all rights, under the arguments made by Roe supporters."
Thomas added, "Since the Roe decision, more than 63 million babies have been killed by abortions. An estimated 20 million of the victims were African-Americans. The Justices showed remarkable courage in the face of illegal protests at their homes and other efforts to intimidate them, fueled by a Biden administration that refused to prosecute – in fact, that encouraged – these actions, and by a Senate Majority Leader who personally threatened Justices. Not surprisingly, a would-be assassin was inspired to make an attempt on one member of the Court and his family."
He concluded, "I weep today for the millions of lives lost to abortion," he said, "but I am filled with joy that millions of babies may now be allowed to live. This is thanks to the courage of the Supreme Court in standing up for the law."
State Sen. Luis Sepúlveda (S.D. 32) also reacted to the announcement saying, "Today is a catastrophic day for all Americans. A few hours ago, the U.S. Supreme Court overturned decades of support for the constitutional right to an abortion. Across the country, we are grappling with a dangerous reversal of several years of advocacy that not only ignores the basic constitutional rights of Americans but also insults years of progression."
The senator added, "In the State of New York, our leadership has never strayed from being bold and courageous as it relates to progressive policy that sustains the right to choose and upholds women's reproductive rights. Currently, in New York, abortions are still legal for up to 24 weeks of pregnancy, and after that in special circumstances. In the New York State Senate, we have passed several pieces of legislation that protect, preserve, and expand on these basic human rights."
He concluded, "I am extremely shattered to see the country that I love moving in a direction that counters these basic rights. I stand committed in this fight and promise to be vigilant to ways that we can uphold the basic necessity to safe and legal abortions. As our communities know too well, the highest price is always paid by low-income communities like the one I represent in the Bronx."
I stand firmly on protecting women's reproductive rights and stand my strenuous opposition to the U.S. Supreme Court decision.
Last month, Norwood News asked local residents for their thoughts on what was at that point the prospect of the overturning of the Roe V. Wade decision as part of our Inquiring Photographer series.
Meanwhile, local Northwest Bronx resident, Jennifer Scarlott, is organizing a protest on Saturday, June 25, at 1 p.m. at Riverdale Bell Tower Monument, located at West 239th Street and Riverdale Avenue.
"On Friday, June 24, 2022, the U.S. Supreme Court struck down Roe v. Wade, eliminating the constitutional right to an abortion after almost 50 years," a press release read in the context of the announcement. "The SCOTUS decision will lead to almost total bans on abortion in about half of the states. Come out to publicly protest this outrageous decision and the systematic attacks on women's self-hood, women's autonomy, women's rights, women's incontrovertible right to make decisions about their bodies. No woman can call herself free who does not control her own body. Abortion is Healthcare. Healthcare is a Right. #ProChoice #BansOffOurBodies #FeministsAreTheMajority"
Originally published on June 24, 2022 via Norwood News