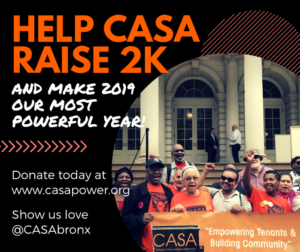 Help us raise $2,000 to build CASA power!
Here are some CASA Highlights!
CASA members showed up to the City Council's final vote to pressure the City for a fair rezoning on Jerome Avenue, and as a result won historic commitments for the community.
Right to Counsel was implemented in four zip codes in the Bronx and we worked tirelessly to make sure that all eligible tenants received legal services and that tenants' rights were respected in Housing Court.
We met consistently with state agency to reform their administration of MCI rent increases, this will ensure that tenants have more access and resources to opposing MCI's in their buildings.
We had 100 Bronx tenants testify at the Bronx Public Hearing of the Rent Guidelines Board to continue putting pressure on them to vote for the lowest possible rent increases in Rent Stabilized buildings.
1,405 tenants organized Tenants' Associations in 68 buildings, holding 304 meetings with their neighbors to plan repair demand letters, meetings to hold their landlord accountable, building-wide complaints with HPD, DHCR, and CCHR, proactive court cases, press conferences and more!
We engaged over 2,300 Bronx community members in our campaigns, monthly membership meetings, workshops, and legal clinics, half of whom came to CASA for the first time in 2018.