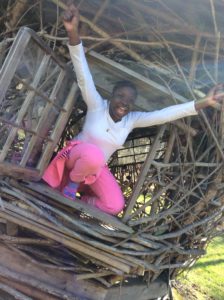 Watch video Highlights from In My Words 2017 & 2018
"Programs like this are crucial for young girls like us, because it lets us know we can have a voice, and we can say how we feel, and try to make a difference in the world."
ANIYAH, 13
"It is a fun and great program. It will make your artistic self expand. You will meet new people and make new friends!"
MARIAM, 12
Deadline for applications is EXTENDED to April 5th, 2019!
For more information or to receive an application by mail or fax, contact Joy Leonard at 718.716.8000. Applications may be emailed to j.leonard@newsettlement.org, faxed to (718) 294-4085 ATTN: JOY, or mailed/dropped off to New Settlement Program for Girls & Young Women, 1512 Townsend Avenue, Bronx, NY 10452.
Once accepted, a deposit of $25 per participant is required to hold your spot. Deposits may be paid in cash (in person and to program staff only), or by check or money order, payable to "New Settlement Apartments," with "In My Words" in the memo line (if possible). Deposits will be returned in full to all who complete the program. No refunds will be made for cancellations after April 10th, 2019.