Town Hall: Jerome Avenue Public Health Taskforce / Reunión de Reubicar de Jerome
June 24 @ 5:30 pm

-

8:00 pm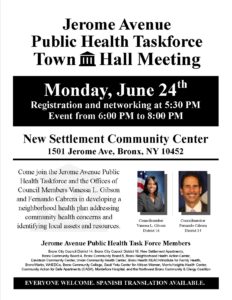 In 2018, New York City Council approved the rezoning of 92 blocks of a commercial corridor along Jerome Avenue. New Settlement, as a partner in Bronx Coalition for a Community Vision, organized the community around a Policy Platform that was created with extensive community input. We remain engaged in this work and are committed to continuing community engagement.
The Jerome Avenue Public Health Taskforce is developing a neighborhood health plan. Community Food Action is a member of the Taskforce.
Our first Town Hall is a crucial opportunity for those who live, work, and go to school here to share ideas on how the city can improve the health of our neighborhoods. This is about the future of our schools, small businesses, community spaces, and homes.
As our comrades at CASA say,
NOTHING ABOUT US, WITHOUT US, IS FOR US!
Are you a long time resident of this community?
Please, join us on June 24th at the Community Center!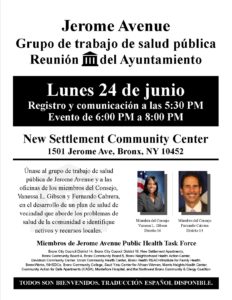 En 2018, el Consejo de la Ciudad de Nueva York aprobó la rezonificación de 92 bloques de un corredor comercial a lo largo de la avenida Jerome. New Settlement, como socio en la Coalicion del Bronx para una Visión Comunitaria, organizó a la comunidad en torno a una Plataforma de Políticas que fue creada con una amplia participación de la comunidad. Seguimos comprometidos con este trabajo y en continuar el compromiso de la comunidad.
El Grupo de Trabajo de Salud Pública de Jerome Avenue está desarrollando un plan de salud para el vecindario. Acción Comunitaria de la Alimentación es miembro del Grupo de Trabajo.
Nuestro primer Ayuntamiento es una oportunidad crucial para aquellos que viven, trabajan y van a la escuela aquí para compartir ideas sobre cómo la ciudad puede mejorar la salud de nuestros vecindarios. Se trata del futuro de nuestros escuelas, empresas, espacios comunitarios y hogares.
Como dicen nuestros compañeros de CASA,
NADA SOBRE NOSOTR@S, SIN NOSOTR@S, ES PARA NOSOTR@S!
¿Eres un residente de esta comunidad desde mucho tiempo?
Por favor, únete a nosotros el 24 de junio en el Centro Comunitario!