As I moved through the year as a FoodCorps service member and part of Community Food Action, the difficulty of effectively implementing what is commonly known as "food justice" has become more and more apparent to me. Namely, when I would witness the effect that institutionalized racism had as a barrier to the members of the Mount Eden community, at times, I felt overwhelmed and powerless to help. The article, Notes on the practice of food justice in the US by Rachel Slocum and Kirsten Cadieux helped me think through my reaction in a productive way. The authors argue that it is essential to understand "the materiality of institutionalized racism" so that food justice organizations can position themselves to become better allies to the communities they serve. They provide a list of possible outcomes of institutional racism, including "unemployment, gentrification, incarceration rates, and wealth and income."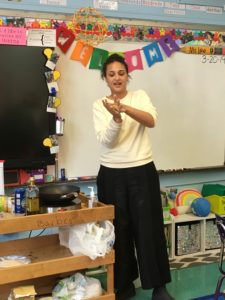 This year I struggled with the idea of how to practice food justice without being tone deaf, addressing the pain of this systemic realities, and empowering the community. I attempted putting this practice in reality. I teach culturally responsive cooking and gardening based classes to kindergarten through fifth grades by providing them with ample historical background to understand the food they are cooking and growing. I admit, however, that thinking about the impediments produced by institutionalized racism and its relationship to practicing food justice is what has consumed me the most throughout my year, and additionally, to appropriately address this reality with elementary aged students. This has led to a lot of thought and less action. The vastness of these problems, to me, contrasted sharply with how small activities like cooking and gardening seemed, and I thought that those activities often felt ill-equipped to address institutional racism.
Slocum and Cadieux argue that recognizing trauma is essential in the practice of food justice. To uncover trauma is the only way to combat and heal from institutional racism. They define trauma as the "significant social and contemporary harm done especially to indigenous people and people of color in the US and Canada through foundational racism." The collective trauma experienced in of the past directly informs our actions in the present. Trauma, they argue, is something that affects both the mind and the body, and so, the only way to heal trauma is through "embodied activism," meaning movement done in the body that addresses the inequity of the past.
The concept of embodied activism is one I will hold dear for years to come. The interlinking inequalities inherent in our country cannot be ignored, but they also cannot be thought away. They must be spotlighted, examined, and eradicated. Action is necessary, and we must heal from the trauma of both the past and present. Healing is a slow and steady process, and in order to heal in the collective and somatic manner that Slocum and Cadieux suggest, things like cooking and gardening, though seemingly small, are viable steps to accomplish this.
By Zahra Booth, FoodCorps Member